Overview
Use this article to help find settings or features in the When I Work web app. This article is intended for users with Account Holder, Manager, or Supervisor level access. If you are an Employee, check out Web App Navigation Reference for Employees.
Navigation bar
The navigation bar is the starting point for all the actions in the When I Work web app.
¹This menu item is not available to the Supervisor access level.
Notifications

The Notification area in the top-left corner of the screen allows you to see what's happened in your account while you were away.
Learn more about notifications.
Dashboard

The  Dashboard gives you a snapshot of what's going on with your workplace.
Learn more about the Dashboard.
Scheduler

Use the  Scheduler to create and manage the schedule for your workplace. The schedule displays scheduled shifts, annotations, user's availability preferences, and approved time off.
Learn more about the Scheduler.
Attendance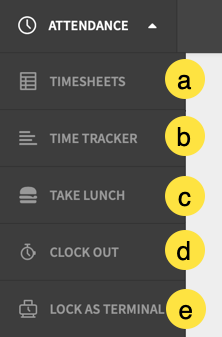 Use the  Attendance menu to manage all of your time tracking functionality.
WorkChat

Use  WorkChat to communicate with your coworkers in real time without exchanging personal contact information. Open WorkChat to start sending messages to your users.
Requests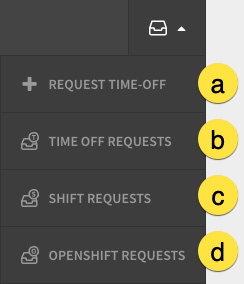 Use the  Requests menu to submit a request and process requests. You can perform the following actions from the Requests menu:
Workplace

The  Workplace menu focuses on your business and includes the following options:
| | |
| --- | --- |
| Callout | a |
| Name | Users |
| Description | View, add, edit, or remove users. |
| Callout | b |
| Name | Positions |
| Description | View, add, edit, or remove positions. |
| Callout | c |
| Name | Tags |
| Description | Create and manage tags. |
| Callout | d |
| Name | Schedules |
| Description | View, add, edit, or remove schedules. |
| Callout | e |
| Name | Job Sites |
| Description | View, add, edit, or remove job sites. |
| Callout | f |
| Name | Shift Templates |
| Description | View, add, edit, or remove shift templates. |
| Callout | g |
| Name | Reports |
| Description | View Reports. |
| Callout | h |
| Name | Task Lists |
| Description | View, add, edit, or remove task lists. |
| Callout | i |
| Name | Documents |
| Description | Upload, share, and view documents. |
| | | |
| --- | --- | --- |
| Callout | Name | Description |
| a | Users | View, add, edit, or remove users. |
| b | Positions | View, add, edit, or remove positions. |
| c | Tags | Create and manage tags. |
| d | Schedules | View, add, edit, or remove schedules. |
| e | Job Sites | View, add, edit, or remove job sites. |
| f | Shift Templates | View, add, edit, or remove shift templates. |
| g | Reports | View Reports. |
| h | Task Lists | View, add, edit, or remove task lists. |
| i | Documents | Upload, share, and view documents. |
Gear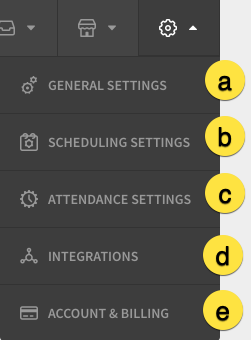 The  Gear menu focuses on all When I Work settings and includes the following options:
Profile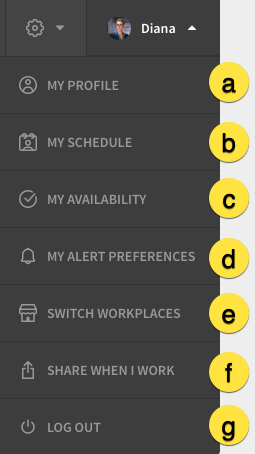 The Profile menu focuses on your personal settings and includes the following options: