Overview
The Dashboard in When I Work Scheduling and Attendance shows a snapshot of things to keep track of for the day such as your daily schedule, your budget, and recent activity.
Pay Period Complete
At the top, the Dashboard will monitor your pay period and remind you to finalize your payroll when it is time to do so. You can go straight to your pay period by clicking Finalize Payroll.
Check out the article Configuring and Finalizing Payroll for more details.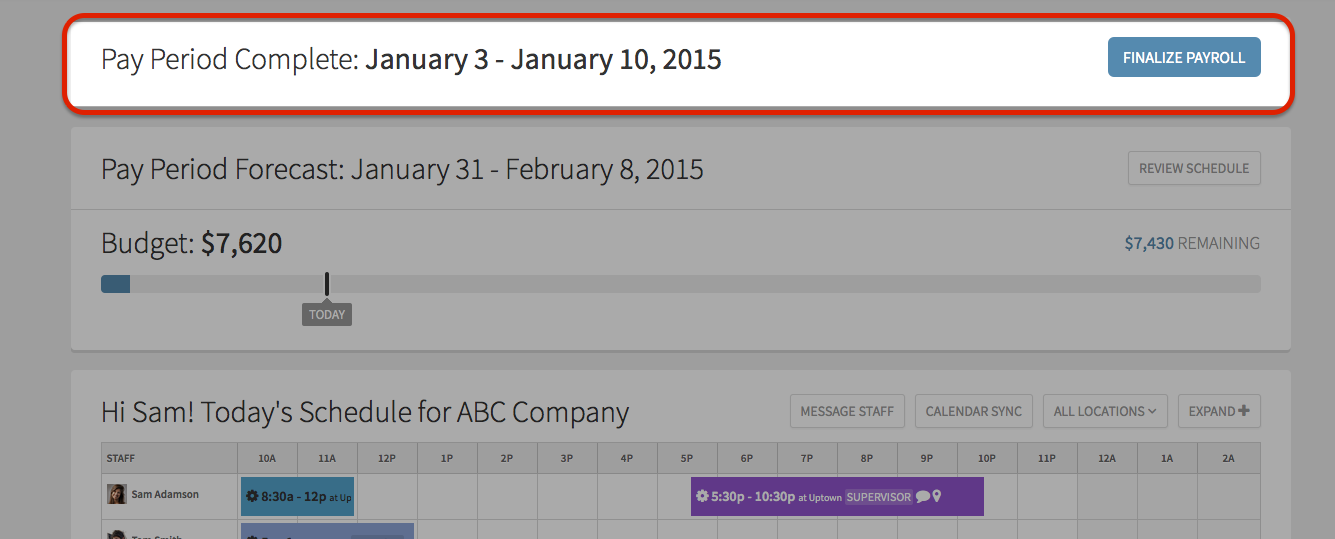 Pay Period Forecast
This section helps keep track of how many hours your employees are clocking in compared to how many hours they were actually scheduled for.
The "Budget" dollar amount is a representation of the total amount of scheduled labor costs for the current pay period.
The "Today" slider represents how far into the pay period you are at the moment.
In order for this feature to properly function, you will want to make sure that you have set your employees' wages in their employee profiles.
Click Review Schedule to go straight to the Scheduler.
Note: If this is showing as 'Over' budget, check to see that all Users have clocked out and that they are only clocking in for scheduled shifts. Any of these settings will cause unexpected overages.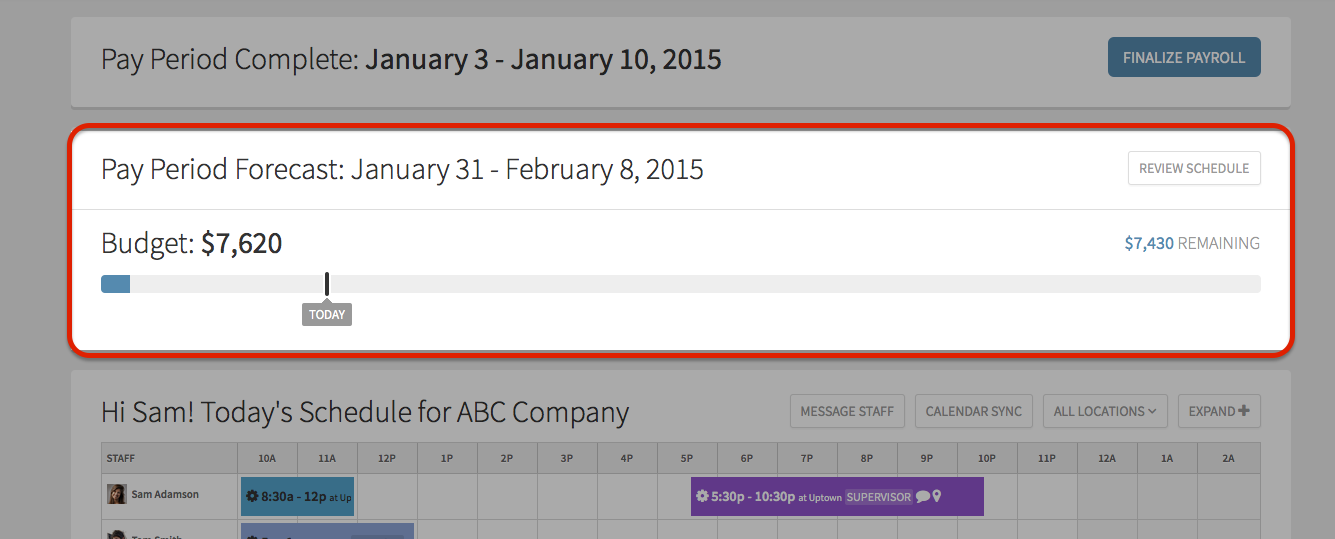 Today's Schedule
This feature allows you to quickly see who's working right now, and who is going to be working within the next 12 hours. Whenever you log in to the Dashboard, you'll see a 12 hour snapshot of who should be where and when.

If you need to view details about a shift or find a replacement, click the Gear icon in the shift.

To quickly message your staff, click the Message Staff button.

Click Calendar Sync to sync your schedule to your favorite calendar app. Click here for more details.

Click the Locations button to toggle Today's Schedule to view a specific Location.

Click Expand+ to view more shifts at once on the Dashboard.

Available OpenShifts™
Underneath "Today's Schedule", you can see Open Shifts that you are available to pick up.
Note: If you'd like to see ALL Open Shifts that all employees can pick up, you'll want to go to the Scheduler to view those.

Attendance Notices
Any kind of alert that requires your attention in regards to your employees' attendance will appear within this section. The following statuses that you will see are "No Show", "Clocked In Late", and "Forgot to Clock Out".
No Show: If employees do not show up after 15 minutes of their shift starting, they will be listed as a No Show. Hover over the alert and click Show Details to see details about their shift. To clear this alert, you will need to click the Clear button at the top right corner of this section.


Clocked In Late: If your employee clocked in after their start time, they will appear with this status. You can hover over the shift and click Edit Time to edit the clock in time or click the Checkmark button to approve of it.


Forgot to Clock Out: If your employee forgot to clock out, you will be able to input a clock out time for this. Clocking out is imperative for your budget projections.