Overview
The Reporting page provides a centralized location for all of the reports and exports available in your When I Work account. The Reports page is organized into two tabs: My Reports and Predefined Reports.
My Reports (custom reports)
Under the My Reports tab, you can create a custom reports to gain insights, fine tune your workplace operations, and schedule more efficiently. Use the integrated report builder to create and save as many custom reports as you need.

You can create the following types of custom reports:
Shifts Report
Times Report
Shift History Report
For a more detailed look at what you can do with custom reports, check out Custom Reports Reference and Creating and Refining Custom Reports.
Predefined Reports
The Predefined Reports tab includes reports that are generated automatically on a recurring basis and standard exports.
Automated Reports
The Attendance Notices report and the Labor Breakdown report are automatically generated daily (replaced with an updated version) and shows a one-week period based on the Start of the Work Week set in the General Settings.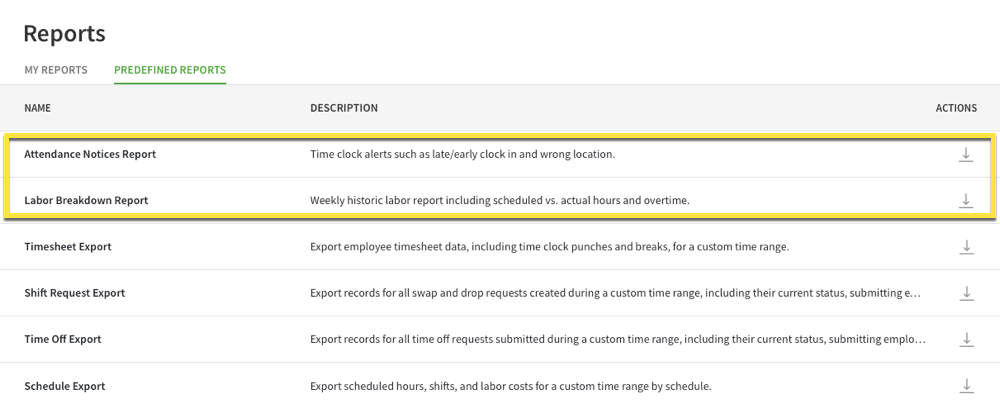 Attendance Notices Report
The Attendance Notices Report provides a weekly breakdown of Attendance Notices that can be used to take corrective action and gauge overall employee performance. All of the Attendance Notices from the last week display in the report even when they have been resolved on the Dashboard or in the timesheets.
Click in the Actions column then select a date range to download a .csv file of your Attendance Notices Report to your computer..

The spreadsheet includes the user name, date, shift, type of Attendance Notice, and whether the corresponding timesheet entry has been edited.
Labor Breakdown Report
The Labor Breakdown Report allows managers to see how their planned labor budget compares to their actual labor budget, including overtime.
Click in the Actions column then select a date range to download a .csv file of your Labor Breakdown Report to your computer.

The spreadsheet contains a breakdown of scheduled hours and labor cost including overtime for each user, schedule and position combination.
Exports
The Exports section includes the standard exports available within When I Work.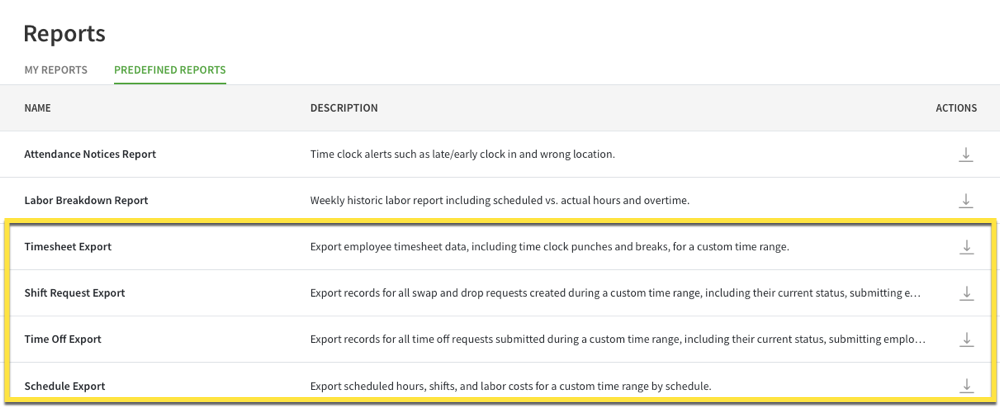 They include:
Click next to the report you want to view, then choose the parameters of the export.