Overview
The Reporting page provides a centralized location for all of the reports available in your When I Work account. Click Reports in the navigation bar to access the page.

Automated Reports
The Automated Reports section includes reports that are generated on a nightly basis.
The Labor Breakdown Report is the only automated report available for the Beta.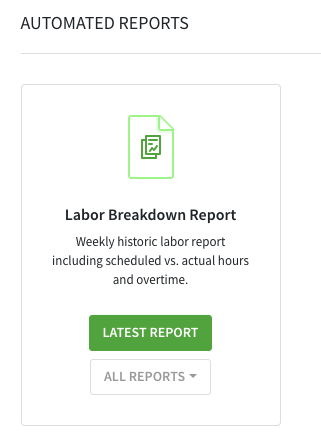 Labor Breakdown Report details
The Labor Breakdown Report provides details about scheduled hours and labor costs, including overtime, for each schedule, employee, and position combination.
For example, you can compare the number of hours an employee worked for each position they were scheduled over a two week period. You can break down the data even further and see how much overtime they incurred in each position as well as the rate of pay.
The Labor Breakdown Report is organized as follows:
Data for the last two complete weeks is shown. (This is based on your start of the week setting.)
Individual entries are shown in weeks based on the Start of Week and End of Week columns.
Click Latest Report to download a .csv file of your Labor Breakdown Report to your computer.
Click All Reports to open a drop-down menu of historical reports that you can download.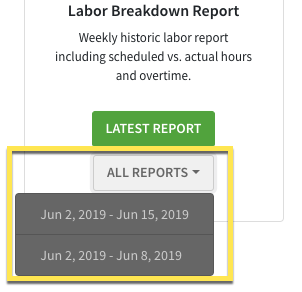 Custom Reports
The Custom Reports section includes all the reports available within When I Work. They include:
Click Export next to the report you want to view, then choose the parameters of the export.

Reports We're Considering
You can vote for reports that we are considering adding to When I Work. Click Show List to expand the list and cast your vote. You can also submit your own report ideas if you still don't see a report that interests you.