Overview
Determine how your staff uses the app by configuring your company's app settings. To configure, click on your name in the upper right corner and select App Settings.
Things to know before you begin
You must be a manager or account holder to view and modify your company's app settings.
General Settings
The App Settings section at the top of the page allows you to:
Add or change your logo
Change the account name and ID
Set business listing information (business location and industry)
Change time settings (time zone, start day of the work week, and time format)
Change the currency symbol
Overtime
Overtime settings allow you to set weekly, daily and double daily thresholds. This setting controls of overtime on the timesheets. For more information, check out Setting Overtime Thresholds.

WorkChat
WorkChat is a feature that allows you and your staff to send messages and images in real time without exchanging personal contact information. For more information, see Managing WorkChat.
WorkChat is available for plans that support 1,000 or fewer users.

Time Off Requests
This section allows you to control how time off requests work. The large toggle switch on the left enables and disables time off requests completely.
These settings help you manage time off requests:
Require Approval for Employees: Select whether employee's time off requests are automatically approved or require manager approval.
Require Approval for Supervisors: Select whether supervisor's time off requests are automatically approved or require manager approval.
Show Approved Time Off Requests to All Users: Select to show approved time off requests to all users on the Scheduler page.
Days Notice Required For Time Off?: Enter the number of days in advance employees are required to schedule a time off request.

This requirement does not apply to sick time.
This restriction does not apply to account holders, managers or supervisors.
Enter 0 if no notice is required.

Max Paid Hours Per Day?: Enter the maximum number of paid time off an employee can enter for a time off request.

Enter 24 to disable the limit.
Enter 0 to disable paid time off.

Employee Privacy
Prevents your employees from seeing other employees' names and contact information on the Coworkers tab. For more information, see Enabling Privacy for All Employees.


Scheduling
The Scheduling tab appears if your account uses the Scheduling feature.
My Schedule
These settings determine whether employees can set preferred weekly hours and split shifts:
Allow Employees To Set Preferred Hours: Allows employees to set the number of hours they prefer to work per week.
Split Shift Minimum Time: Determines whether employees can split shifts.

To prevent employees from splitting shifts, select Splitting Disabled.
To allow employees to split shifts, select the minimum duration for shifts created by a split.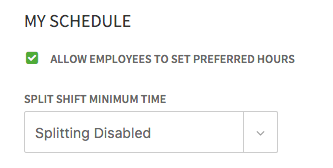 Scheduler
Configure your settings to allow employees to see the full schedule or just their own. You can also set how you would like your employees sorted within the Scheduler.
Employees Can View Their Coworkers Schedule: Allows employees to view the full schedule in addition to their personal schedules.
Employees Can Only See The Schedule For Their Positions: Restricts the full schedule view for employees so that they can only see coworkers that share the same position.
Initially Display Only Open Shifts In Scheduler: Causes the full schedule view to initially display OpenShifts only with an option to load the full schedule. This feature is useful for businesses that heavily rely on open scheduling and have a large number of employees.

Shift Swaps & Drops
Set whether you want to require approval by managers before swap and drop requests can be initiated.

Require Shift Confirmation
Shift confirmation is a verification measure that lets you know if your employees have seen their shifts. When Require Shift Confirmation is turned on, users are automatically prompted to confirm their newly published shifts for the next two weeks.
By default, Require Shift Confirmation is enabled.
Turning off Require Shift Confirmation disables off the prompt that appears when users log into their When I Work accounts, but it does not disable shift confirmation as a whole. Users still have the option to confirm their shifts but are not required to do so.

Availability
Allows a manager to enable or disable the ability for employees to set availability preferences. This can help managers manage their employees' availability so changes can or cannot be made by the employee.


Attendance
The Attendance tab appears if your account uses Time Clock & Attendance. For more information, see Configuring Attendance Settings.