Overview
Configure your Attendance Settings to determine how your staff uses Time Clock & Attendance.
Considerations
You must have manager or account holder access privileges to access the Attendance Settings page.

A manager can access the Payroll settings only if the account holder gives them access to manage payroll.
Only the account holder can access the Notifications settings.

If you make any changes to Attendance Settings, click Save in the top-right corner of the screen.
Accessing the Attendance settings
Hover over , then select  Attendance Settings.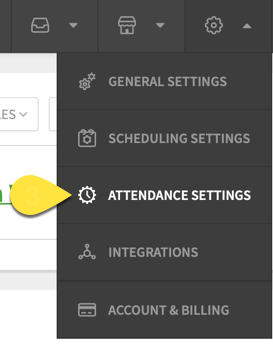 Attendance settings
General
Choose how early employees can clock in for shifts and if they are allowed to edit their own timesheets. 

Time clock
Control how your employees clock in and out for their shifts.

Payroll
The Payroll section contains the setting for how long your pay periods are. Changing the pay period length can change when overtime calculations start. Check out Setting Pay Period Length for more information.

Breaks
The Breaks section allows you to control how breaks are reported. The toggle switch on the left enables and disables breaks completely. If the Breaks switch is toggled on but none of the options are checked, lunch breaks can be added, edited and deleted on timesheets.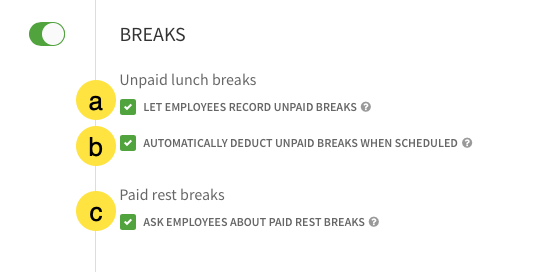 Notifications
The Attendance Notifications section allows you to control when notifications are sent if an employee doesn't clock in for a shift on time.

NOTE: The settings for attendance alerts affect mobile alerts only. Attendance notices that appear on the Dashboard are not affected.