Overview
A location (also known as a schedule) is a way to group employees into the same schedule. Creating a location creates a new schedule that you can toggle through on the Scheduler. The more locations you create, the more schedules that you have. You can assign your employees to be on one schedule, some schedules, or all schedules.
If you're looking for help on deciding between using locations or job sites for your business, see Locations vs. Job Sites.
Creating locations
Near the top-right corner of the page, hover your pointer over

Gear menu

, then click Locations or Schedules.
The choice may vary depending on the age of your When I Work account.
Click Add Location.

Add a Name for the location.

Configure the remaining location settings as necessary:


To add a guideline for the maximum scheduled hours at this location per week, enter the number of hours in Max Hours / Week.
This value is intended for comparison purposes–When I Work doesn't prevent you from scheduling more hours.
Enter the location's Address if it has a street address.
If the map visualization doesn't match the physical address, select Use Custom Coordinates to add latitude and longitude coordinates. See Latitude/Longitude Geolocation for more information.
If you're using Time Clock & Attendance and you want to allow employees to clock in from their work computers, set the IP Address. See our article on clocking in from a work computer for more information.

Click Add Location.
Associating employees with locations
Once you have created all of your locations, the next step is to tag your employees to their appropriate locations. This is very important as your employees will only appear on the Scheduler for a certain location if they are tagged.
To do this, go to the Employees page. Access this by going to the Gear icon then selecting Employees.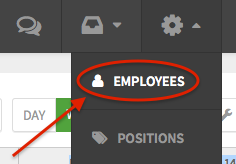 You can tag a location to an employee one at a time, or you tag multiple employees to multiple locations at once.
To do this for one employee, click on their name from the list of employees.

Then go to the Locations tab at the left side.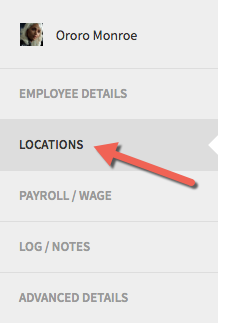 Click the Locations drop down menu and choose the locations your employee works. Click Save Employee when finished.

For multiple employees at once, check out this article here for step-by-step details.
Switching between locations on the Scheduler
When you're using the Scheduler, switch between locations using the location selector on the left side of the page.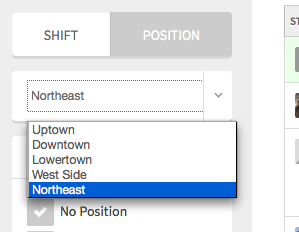 Deleting a location
Deleting a location removes its past shifts, future shifts, shift templates, and job sites.
Click the gear icon, then select Locations.

Click the location that you want to delete.
In the Edit Location popup, click Delete Location.

If you're sure that you want to delete the location, click Yes, Delete Location.
Click Delete Location.