Overview
When you initially add a shift to the schedule, it is only visible to you and other supervisors and managers; the employee cannot see the shift until you publish it. This allows you to build and tweak the schedule without making it visible to your employees. Unpublished shifts have diagonal lines to let you know they're not published.
If you're making a small tweak to the schedule, you might want to publish one shift at a time. However, if you've got many shifts to publish we recommend publishing the entire schedule at once.
You can also publish from your iPhone/iPad or Android phone.
Publishing a custom shift when you create it
When you're finished setting up a custom shift, click Create & Publish to notify and make it visible to the assigned employee immediately.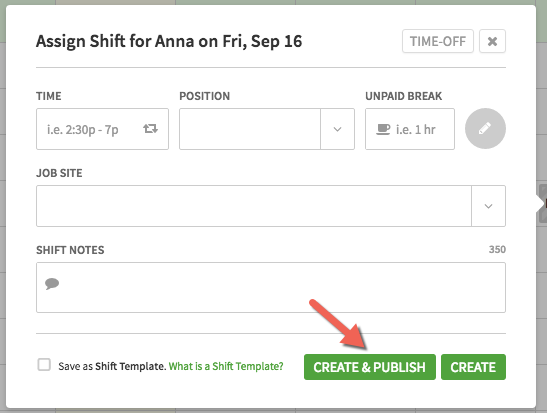 Publishing a previously saved shift
If you previously added a shift to the schedule without publishing, the shift is not visible to the employee. Publish the shift to let the employee know he or she is scheduled to work.
Hover your mouse over the unpublished shift.
Click Edit.
Click Save & Publish.
When are employees notified?
To make sure your employees are aware of their shifts, When I Work notifies your employees when:
You publish shifts that are assigned to them.
You save changes to a shift that is already published.
You publish OpenShifts that they're qualified to take.
You offer OpenShifts to them.
Resending a shift notification
If you want to remind an employee about an upcoming shift or send the employee a message about the shift, you can send another notification at any time.
Hover your mouse over the unpublished shift.
Click Edit.
Click Notify in the top-right corner of the shift.
(Optional) If you want to add a message to the employee, type a message in the box.
Due to message length limitations, your message is included in the email notification but not the mobile notification.
Click Send.