Overview
Set your availability preferences so scheduling managers can see when you prefer to work and when you prefer not to work.
You can also set your availability preferences from your iPhone/iPad or Android phone.
Things to know before you begin
Your availability is a preference that your employer can take into account when building the schedule. There is no guarantee you'll always get shifts that align with your preferences.
Your employer has the option to disable the availability feature from App Settings. Only account holders and managers have the ability to edit App Settings.
Creating Your Preferences
To set preferences, go to your name at the top right corner and select My Availability.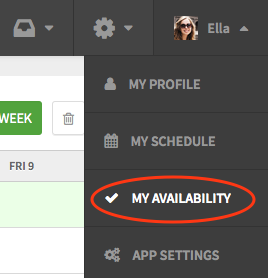 Note: If you do not see "My Availability" from the menu, your Manager may have disabled the feature. In that case, you will want to get in touch with a Manager to make any changes.
| | | |
| --- | --- | --- |
| | | Note: If you do not see "My Availability" from the menu, your Manager may have disabled the feature. In that case, you will want to get in touch with a Manager to make any changes. |
If your availability is the same every week, for example maybe you're free every Tuesday from 8:00 to 12:00, you can set your availability using "Basic Mode".
Or if your availability fluctuates, use "Advanced Mode" to create multiple preferences for different set periods of time.
Start creating your preferences by selecting the Unavailable or Preferred option at the bottom right.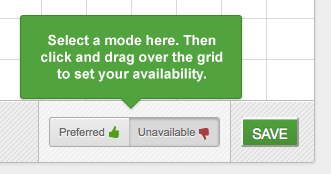 Then click and drag for the date and time when it applies.

If you'd rather indicate that you're unavailable or available for a whole day, select the All Day option corresponding to a specific day.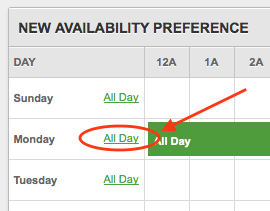 If you don't mind whether or not you work on a certain day, feel free to leave it blank. That will indicate that you do not have a preference of whether or not you work on that day or time.

Click Save when finished.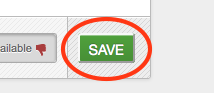 Bringing It All Together
As an example, Ella prefers not to work 8:00-12:00 on Tuesdays, but she prefers to work all day on Wednesdays and Thursdays. As for Sunday, Monday, Friday, Saturday, and part of Tuesday, no preference was inputted, so that indicates that she has no particular preference for working during that time.

Moving Preferences
Move a preference quickly from one day to another, or one time to another, by can holding down on the preference and then dragging it to another day.

Editing Preferences
Reduce or increase the length of a preference by clicking on the beginning or the end and drag it to the left or right.

Deleting Preferences
Quickly delete one preference by hovering over it and clicking the Delete icon that appears.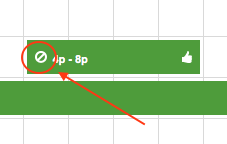 To delete all preferences at once, click Clear at the bottom left.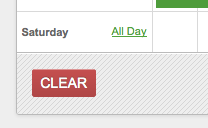 You will be asked to confirm whether or not you'd like to clear your availability. Once you click Yes, Clear Availability, all your data from this page will be removed.

Advanced Mode
Advanced Mode allows you to create as many preferences as you would like and allows you access to more options.
For example, maybe you're only available every other week. Or maybe you'd like to input your specific availability for each week or each month. All of these scenarios can be achieved by using this feature.
From your My Availability page, click the Advanced Mode button. This can be found at the top right of this page.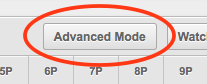 A menu will drop down with the following options: Title, Description, Effective Dates, and Rotation.

Title: You can input a title for a specific availability preference. After you create your first preference using Advanced Mode, you will have access to a specific page that allows you to view each preference you have created by title. By default, "Default Availability" populates in this field.
Description: You can input a description here with extra notes if you'd like.
Effective Dates: This will allow you to choose a range with a start and end date when your preferences are in effect. If your preference does not have an end date, you can input "Ongoing".
Rotation: If the times you input rotate weekly in any way, you can choose from the following options: Every Week, Every Other Week, Every 3 Weeks, and Every 4 Weeks.
You will need to create your preferences one at a time. Input the first preference you'd like to create as detailed in the earlier section "Creating Your Preferences". Once you have finished, click Save.
After saving, you will be brought to a page titled Availability Preferences that will list the preference just created.

From now on, you will be brought to the above page when clicking My Availability at the top right under your name.
Now you can create as many preferences as you like by clicking the new Create a Preference button that appears and begin the process again.