Overview
View how much is being spent on labor costs as you schedule and also input projected sales (future) or actual sales (past) to get a labor expenses to projected sales ratio.
Considerations
By default, supervisors can view and edit projected sales but cannot view daily labor cost. To let a supervisor to see labor costs, allow the supervisor to view employee wages.
Overtime wages are not calculated into the labor budget. Overtime wages must be calculated manually.
If you're working in a past week, Projected Sales become Actual Sales.
View labor costs while scheduling
Click Scheduler.

Check the Show Budget Tools checkbox to the left of the schedule. Alternatively, click the hour totals below an employee's name on the left side of the schedule.
The budget menu appears at the bottom of the schedule.
For current and future weeks, enter your Projected Sales and Labor % Target. Your projected sales and labor costs calculate your Assigned Labor. 

Projected Sales: Your daily predicted revenue. The weekly total projected sales appears when entering your daily totals.
Labor % Target: Your target percentage of labor/wages compared to your projected sales. Your weekly average appears based on the daily percentages that are entered.
Assigned Labor: The actual percentage of labor/wages compared to your projected sales. The difference between the target percentage and assigned percentage displays in dollars.
Weekly projections
As you enter your sales figures into the budget tool, your Weekly Projections show in the bottom-left corner of the screen.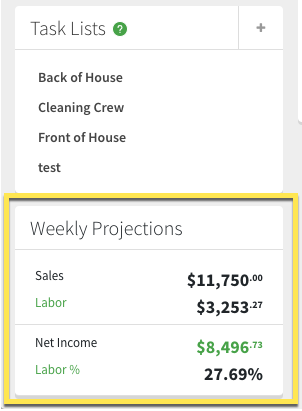 View labor costs for individual employees
Click Scheduler.

Find the employee whose labor costs you'd like to view, then click the numbers listed below their name.Each individual employee's labor costs appear below their names.