Overview
Managers can review the time sheets of all employees to see where they clocked in and out from and make any needed adjustments.
Reviewing time sheets
To do this, click on the Attendance tab at the top.

Choose the pay period for the time sheet you need to review. By default, this is always set to the current pay period. If you would like to choose another pay period, click the arrow button and select from the list.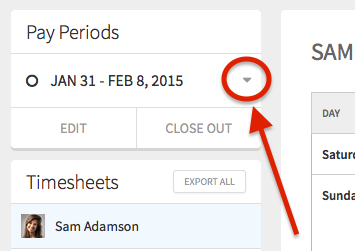 The circle icons to the left of each pay period indicate its status:
White circle: The pay period is currently open.
Black circle: The pay period has been closed.
Circle with check mark: The pay period has been finalized.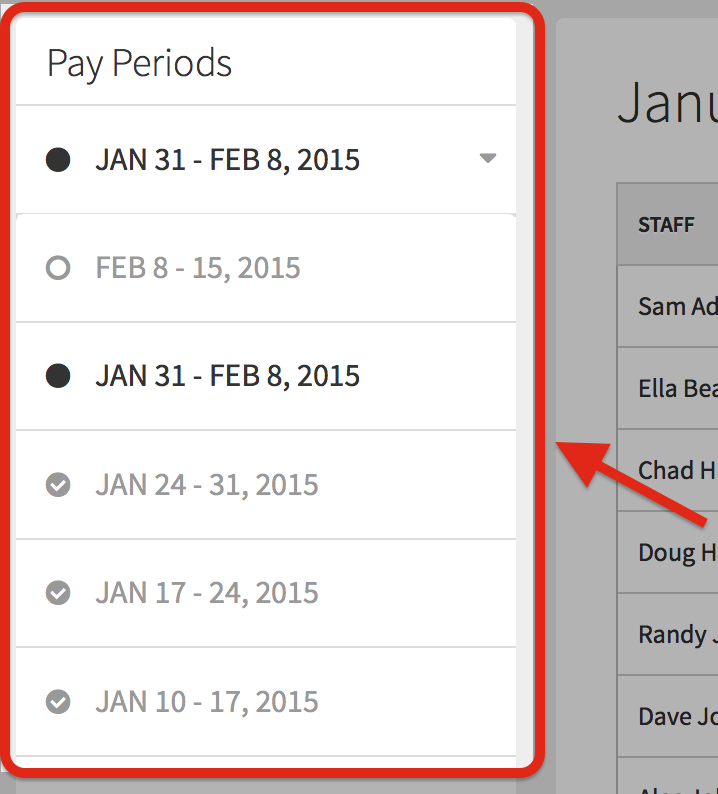 Once your pay period has been selected, you will see a list of you and your employees on the left side underneath the current pay period date.
Your name will always be at the top of the list. The rest of the employees are sorted into two groups: Those with clocked in times for the pay period and those without clocked in times.
If they have clocked in within the pay period, their name will be in black. If they do not have any clocked in times, their name will be in gray. Once they are grouped together by either clocked in times or no clocked in times, then their names will appear in alphabetical order (by first or last name, depending on your settings).
Click an employee's name to view their individual time sheet for that pay period.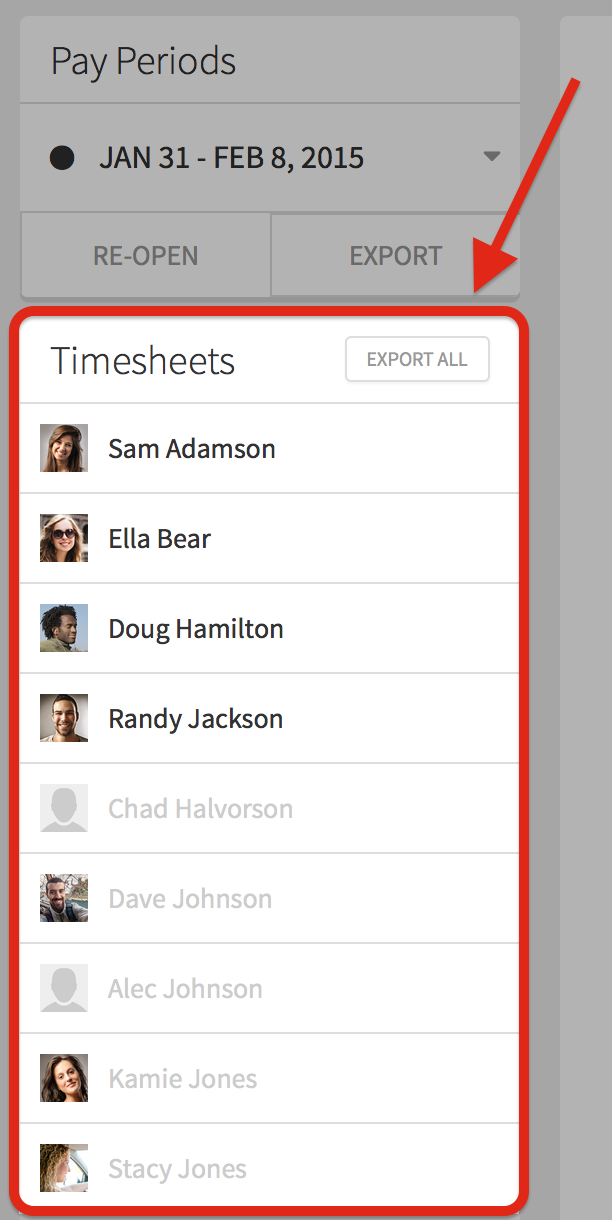 After you click on an employee's name, their time sheet for the selected pay period will appear on the right side.
Note: If the pay period has already been closed, the pay period can only be viewed and not edited. You will need to re-open the pay period to make edits. If the pay period was finalized, the time sheets become read-only and there isn't a way to edit.

Editing time sheets
Managers can review time sheets of all employees and make any needed edits.
Click on the time that you want to edit. The box will turn blue, letting you know that it is editable. You can input times for blank cells as well.

To change the location (yellow block), position (blue block), or job site (green block) for an employee's clock in time, click on the appropriate block to choose a different option for that clocked time.
Note: The only Locations and Positions that will appear as an option are the ones associated with the employee. If you are missing an option, you will want to tag your employee to a certain Location or Position. Check out this page here for more details on how to tag your employee to a certain Location or Position.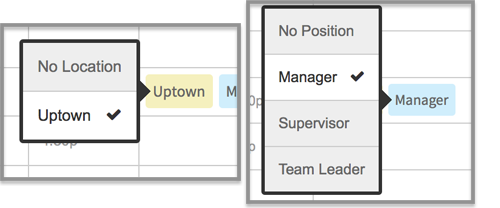 To add a Location, Position, or a Job Site, hover over the area where these options appear. Click Add Location+, Add Position+, or Add Site+ and choose the option you'd like to add.