Overview
When a pay period has ended, review and close the pay period to prepare it for export to your payroll processor.
Considerations
Only the account holder and managers with access to manage payroll can close or re-open the pay period.
Close and export payroll
Follow these steps to close and export your pay period summary.
Close the pay period
Close the pay period to make sure that no further changes are made to timesheets.
Hover over Attendance, then select  Timesheets.

In the Pay Periods list, select the pay period.
Under the pay period list in the top-left corner of the screen, click Close Period.
Review Missing Entries
If there is a shift scheduled that does not have an in and out time entered, you're alerted and the timesheets are highlighted in red.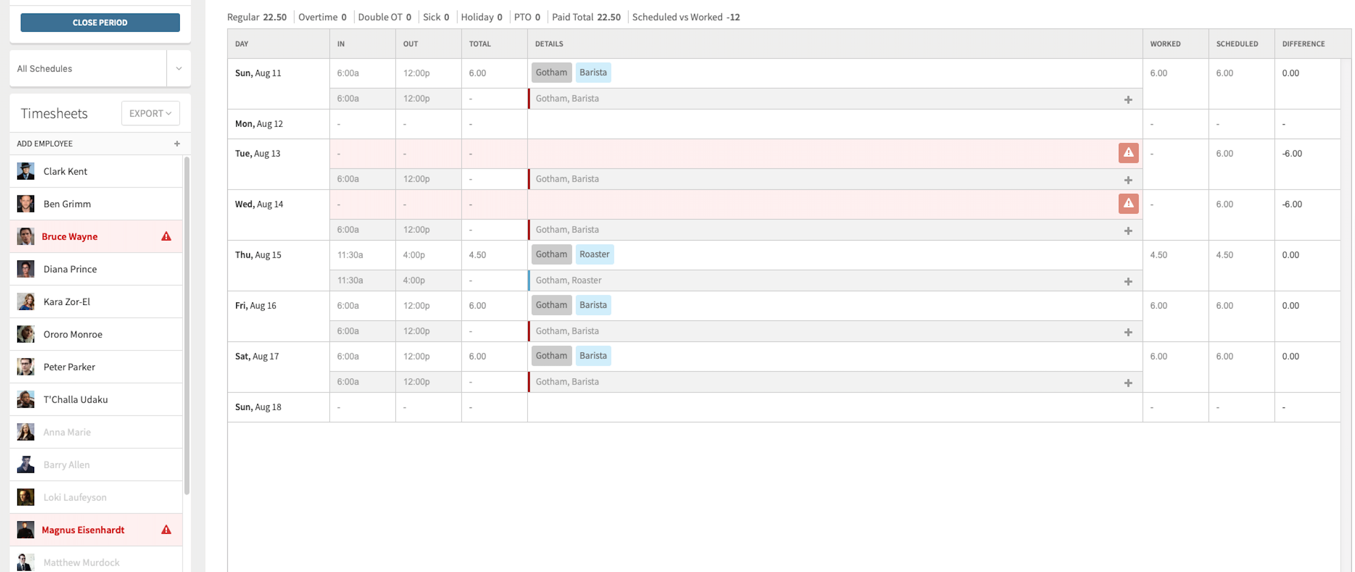 Fill in the missing in and out times, or ignore the missing timesheet entries, then close the pay period again.
Ignore a single missed entry.

Click  in the Details column of the timesheet.
Click Ignore.

Ignore all missed entries.

Click Close Period.
Click Ignore missing entries on the red banner.
Review the payroll summary
Review each employee's hours for the pay period. If an employee's hours look incorrect, re-open the pay period, click the employee's name under Timesheets on the left and make any edits that are needed. When you're finished, click Close Period under the pay period list in the top-left corner of the screen.


Export
When you are done reviewing your payroll summary, export your payroll data.
Under the pay period list in the top-left corner of the screen, click Export.
Choose a payroll export method.

If you want to export your payroll information to an Excel spreadsheet, click Excel (.xlsx).
If you've configured a payroll integration, click the name of the payroll processor to send the payroll export directly to the payroll processor.
NOTE: Depending on the payroll integration, a spreadsheet may be generated that you import into your payroll processor. 
If you haven't set up a payroll integration but would like to, click Setup a different payroll integration. Check out Integrating With a Payroll Processor for more information.
Print the payroll summary
Click to print the finalized payroll summary.