Overview
When a pay period has ended, review and finalize the pay period to prepare it for export to your payroll processor.
Things to know before you begin
Only the account holder and managers with access to manage payroll can close out and finalize payroll.
Only the account holder can un-finalize a finalized pay period.
All time clock entries must have an in and out time before you can close a pay period.
Step 1: Close the pay period
Close the pay period to make sure that employees can no longer make changes to their time sheets.
From your computer, use a supported web browser to sign in to When I Work on the web.
Near the top of the screen, click Attendance.
In the Pay Periods list, select the pay period.
Under the pay period list in the top-left corner of the screen, click Close Out.
If any time sheets are missing a clock out time, you're alerted and the time sheets are highlighted in red. Fill in the missing clock out times, then close the pay period again.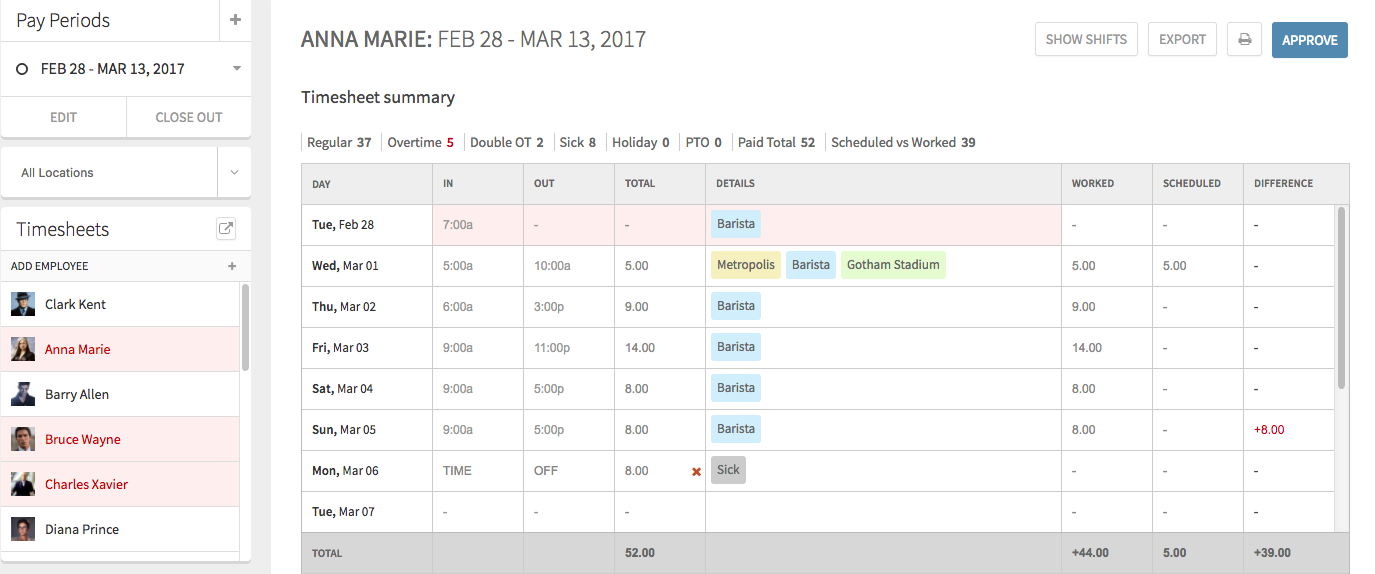 Step 2: Review the payroll summary
Review each employee's hours for the pay period. If an employee's hours look incorrect, click the employee's name to jump directly to the time sheet and make any edits that are needed. When you're finished, click Back to Payroll Summary in the top-right corner of the screen.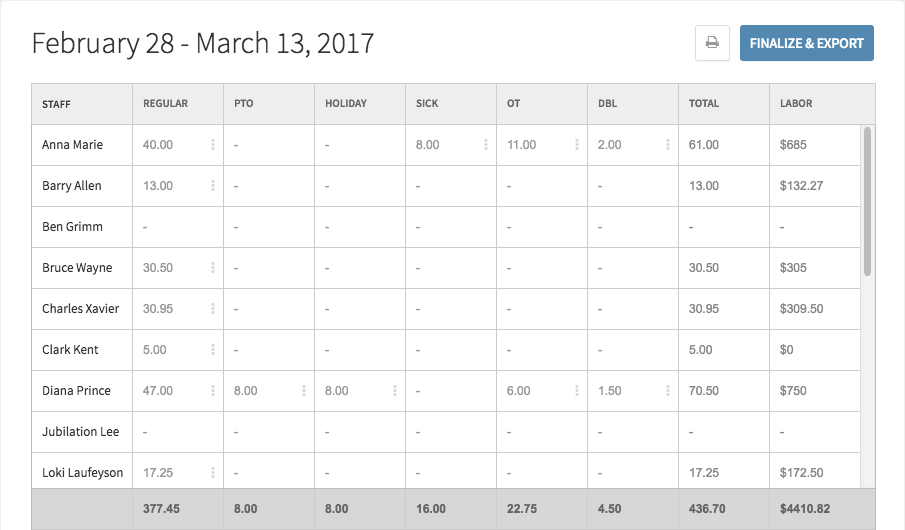 Step 3: Finalize and export
When you are done reviewing your payroll, it's time to get your payroll ready for processing.
Click the Finalize & Export button in the upper right corner of the payroll worksheet.
Click Finalize to confirm that you want to finalize the pay period.
Click the Export button at the top right.
Choose a payroll export method.

If you want to export your payroll information to an Excel spreadsheet, click Excel (.xlsx).
If you've configured a payroll integration and want to send the payroll export directly to a payroll processor, click the name of the payroll processor.
If you haven't set up a payroll integration but would like to, click Setup a different payroll integration. Check out Integrating With a Payroll Processor for more information.