Overview
If you have many job sites that you'd like to input all at once, import an Excel spreadsheet.
Step 1: Set up your Excel spreadsheet
For your job sites to upload correctly, we recommend using our job site import template. If you don't use our template, make sure you create the following columns:
Name of job site
Physical address of the job site (if applicable)
Schedules (if your job sites are schedule-specific)
Step 2: Fill out the Excel spreadsheet
Add each job site to the spreadsheet.
Each job site should have its own row.
Each job sites must have a unique name.
If a job site applies to multiple schedules, separate them with commas.
Step 3: Upload your Excel spreadsheet to When I Work
When you're ready to begin importing, go to the Gear icon and select Job Sites.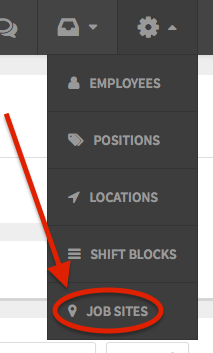 Then click the Import button located at the top right.


After your file has been uploaded, you will need to match up the columns within When I Work to your document's column headers. Click the arrow button for each option to match them up. Select Complete Upload when done.

Once that is done, your new job sites should populate within the Job Sites section.