Overview
There are two ways that you can create shifts on your schedule:
Shift templates (formerly called shift blocks)
Custom shifts
Use shift templates to schedule regularly occurring shifts
Regular shifts on the schedule are what we call shift templates. Shift templates are easily accessible shifts that you use all the time. Adding shift templates gives you the convenience of having them available with one click as you schedule.
Check out our article on Creating Shift Templates for more information.
Once they have been created, you can click on a cell on the Scheduler to have a window pop up with all available shift templates. Select the template that will work best for that employee on that day.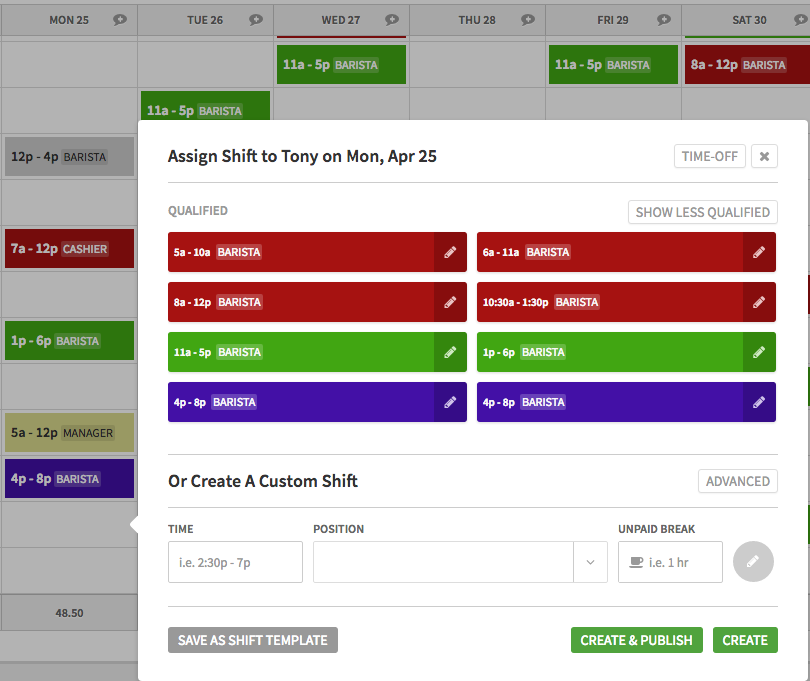 Or if none of the shift templates that have already been set up work for your situation, you can use the Create Custom Shift area to create a new shift on the spot.
Use custom shifts for unique shifts
When creating a custom shift, you must at least input a start and end time.
If you'd like to save this custom shift as a custom shift to use later, check the check box at the bottom left of the window.
Once finished, select Create & Publish to publish the shift immediately or Create to publish later.