Overview
Upgrading to a paid plan allows you to access When I Work features that are not included as a part of our free plan. When I Work offers different plans and services that allow you to configure your account to best suit your needs.
Things to know before you begin
You must have manager or account holder access privileges to access the Account & Billing page on a free account.
If a manager upgrades the account, they become the account holder.
We accept payments via credit card only.
Step 1: Select your plan
Your plan determines your user capacity and available features. The included features are listed below the plan's name.
Go to the Account & Billing page.
Use  and  to switch between plans.
Select your billing frequency. Plans can be billed monthly or annually:

Monthly subscriptions are automatically billed each month. The account's plan can be changed at any time. Plans default to monthly subscriptions.
Annual subscriptions are one-time payments. Downgrades in plan size and services are not possible on annual subscriptions. If you prefer to pay annually, click Go Annual.
Step 2: Select your services
Select the services you'd like to use by clicking the Scheduling or Attendance buttons on the right side of the screen. A checkmark appears in the top-right corner of the services you have activated.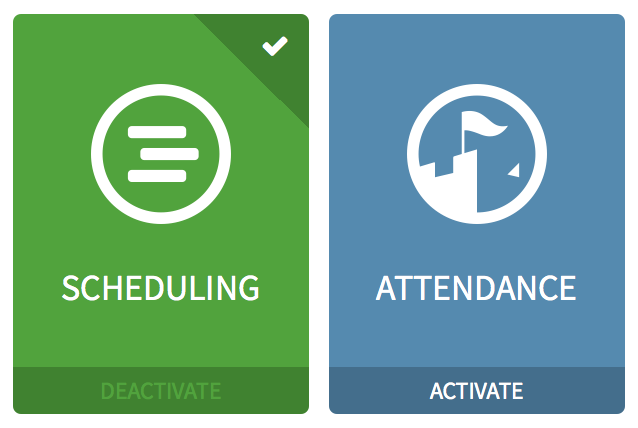 Scheduling: Create and share schedules with your employees
Attendance: Clock in and out for shifts and keep track of employees' hours
Note that the plan's price changes as you activate or deactivate services.
Local text message support
If you are outside of the United States or Canada, you can set up international text messaging to allow your employees receive text message notifications. Click the Local Text Message Support menu in the bottom-right corner of the screen and select an option from the list of supported countries.
Note that the plan's price changes depending on the country you select.
Step 3: Upgrade your account
Once you've selected your plan and services, click Upgrade Now to save your changes.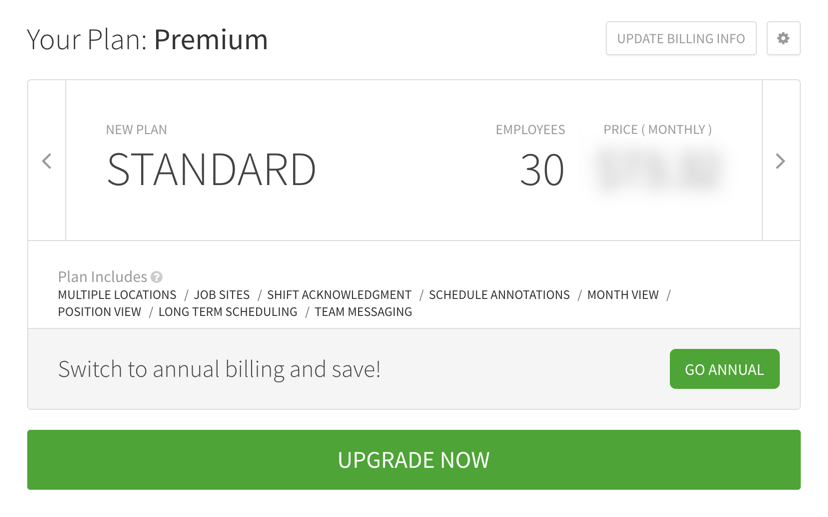 A window appears prompting you to enter in your billing information. Click Confirm & Pay to upgrade your account.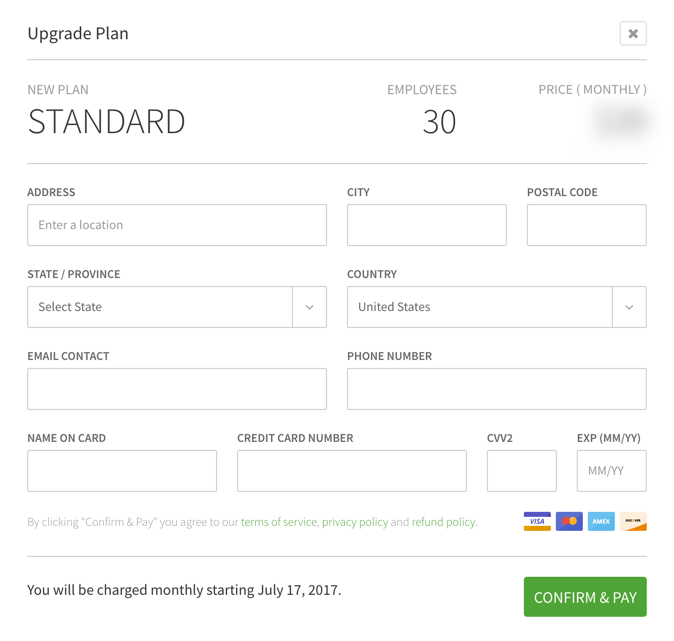 Frequently asked questions
Will I be automatically charged?
Monthly subscriptions are charged automatically each month. Annual subscriptions are not automatically renewed.
Am I locked into a contract?
You are not locked into any contracts; however, per our Terms of Service we do not offer refunds or credits for cancellations.
What if my number of employees isn't shown?
If you have more than 100 employees, contact us to learn more about our enterprise plans.
Do I have to pay with a credit card?
Yes, payments are only accepted via credit card.