Overview
Set your Availability Preferences so your employer can see when you prefer to work and when you prefer not to work.

 When I Work also allows you the ability to create as many preferences for different periods of time. You can create as many preferences as you need!
You can also set your availability preferences from your computer or iPhone/iPad.
Things to know before you begin
Your employer has the option to turn off the "My Availability" feature.
Your availability preferences let your employer know when you do and do not want to work. However, your employer has the right to schedule employees for any time they feel is necessary to meet the business' needs.
Set your availability preferences
1) From the When I Work Scheduling app, tap the menu button (≡) on the top left of the screen.
If you've got the latest version of the app, you can also tap the availability card on the dashboard.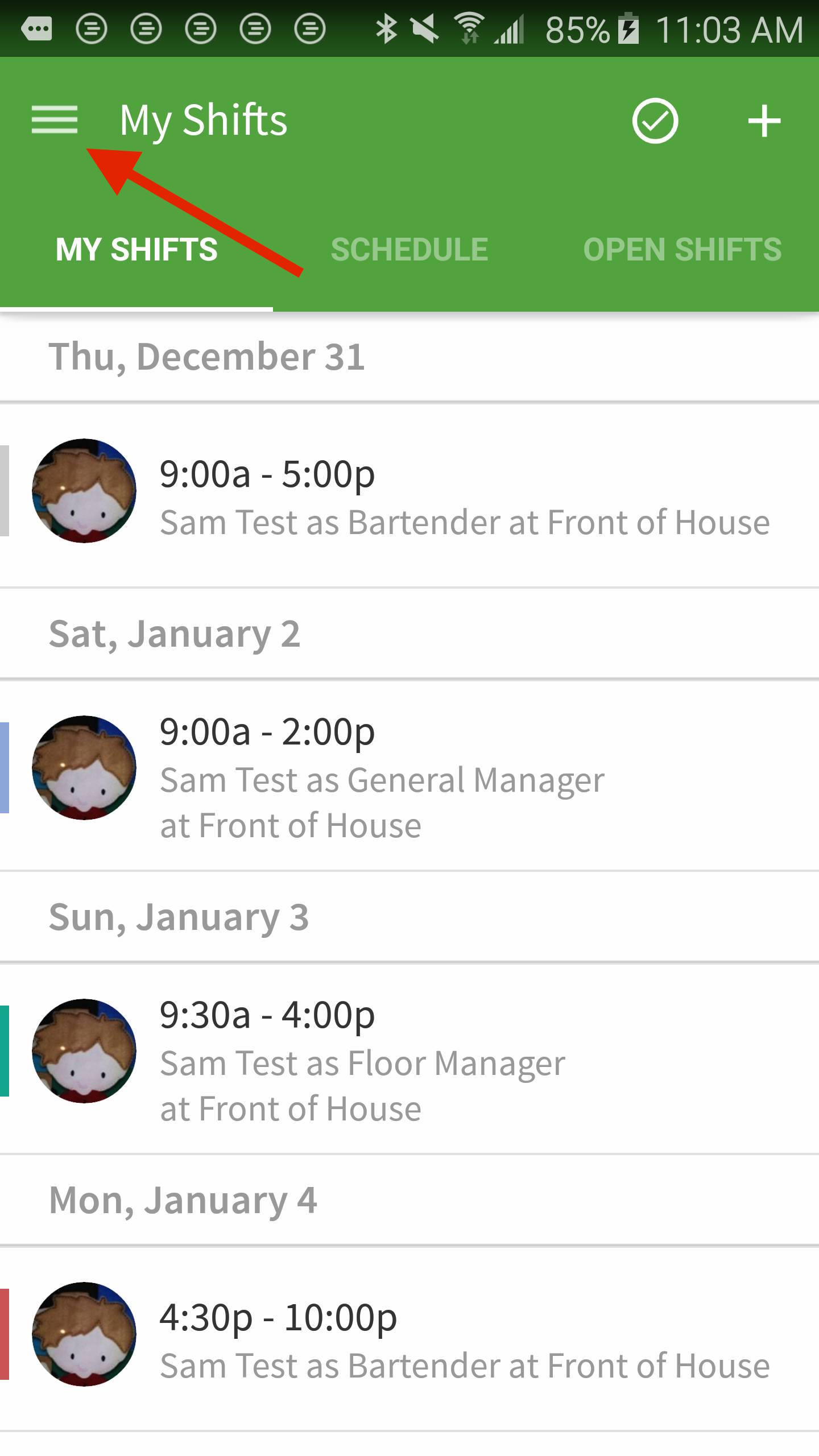 2) Select Availability from the Toolbox list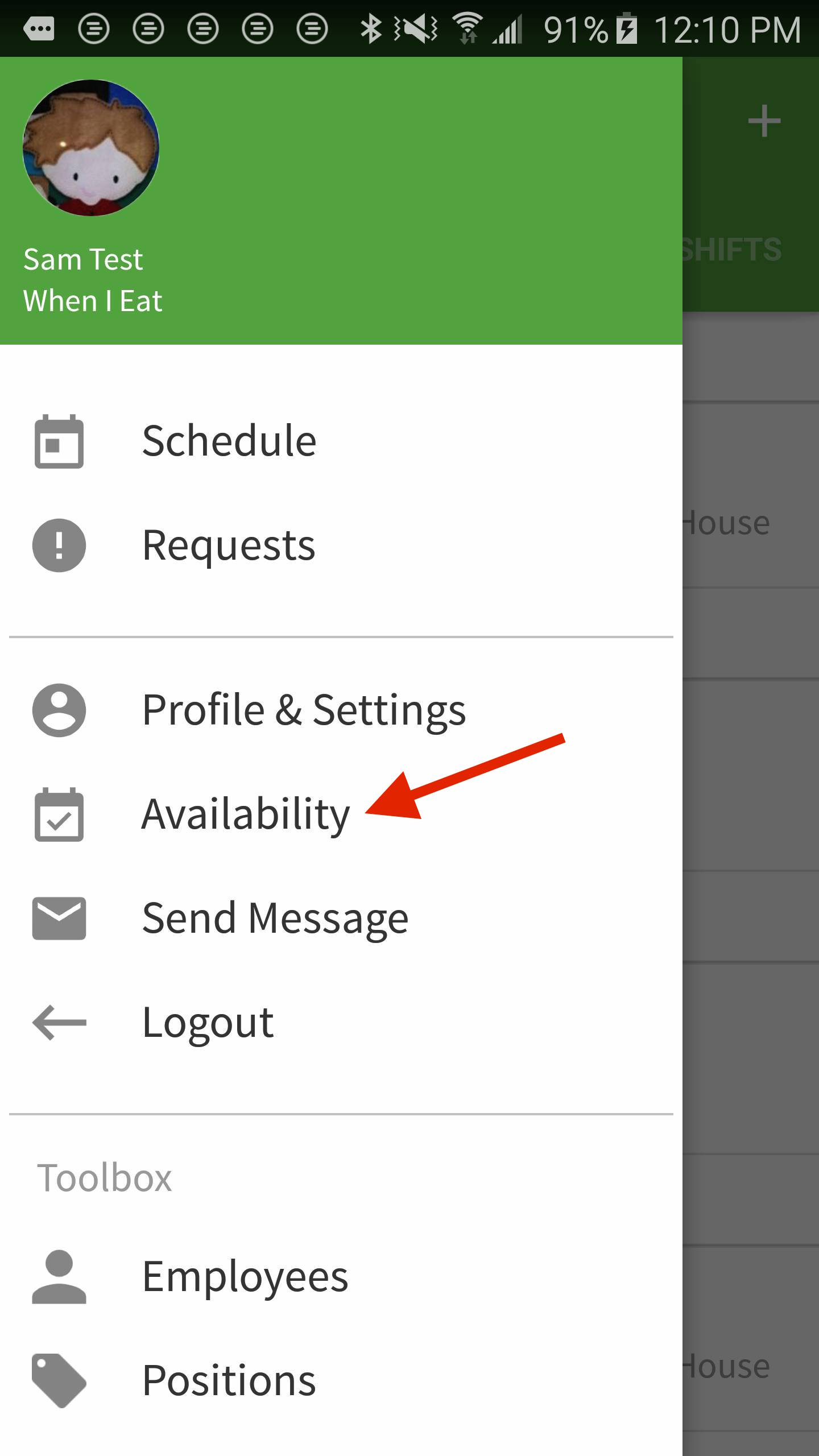 3) Enter a Title and Description for the Availability Preference. This will only be visible to the personal User and is not visible to coworkers, Supervisors, Managers, or the Account Holder.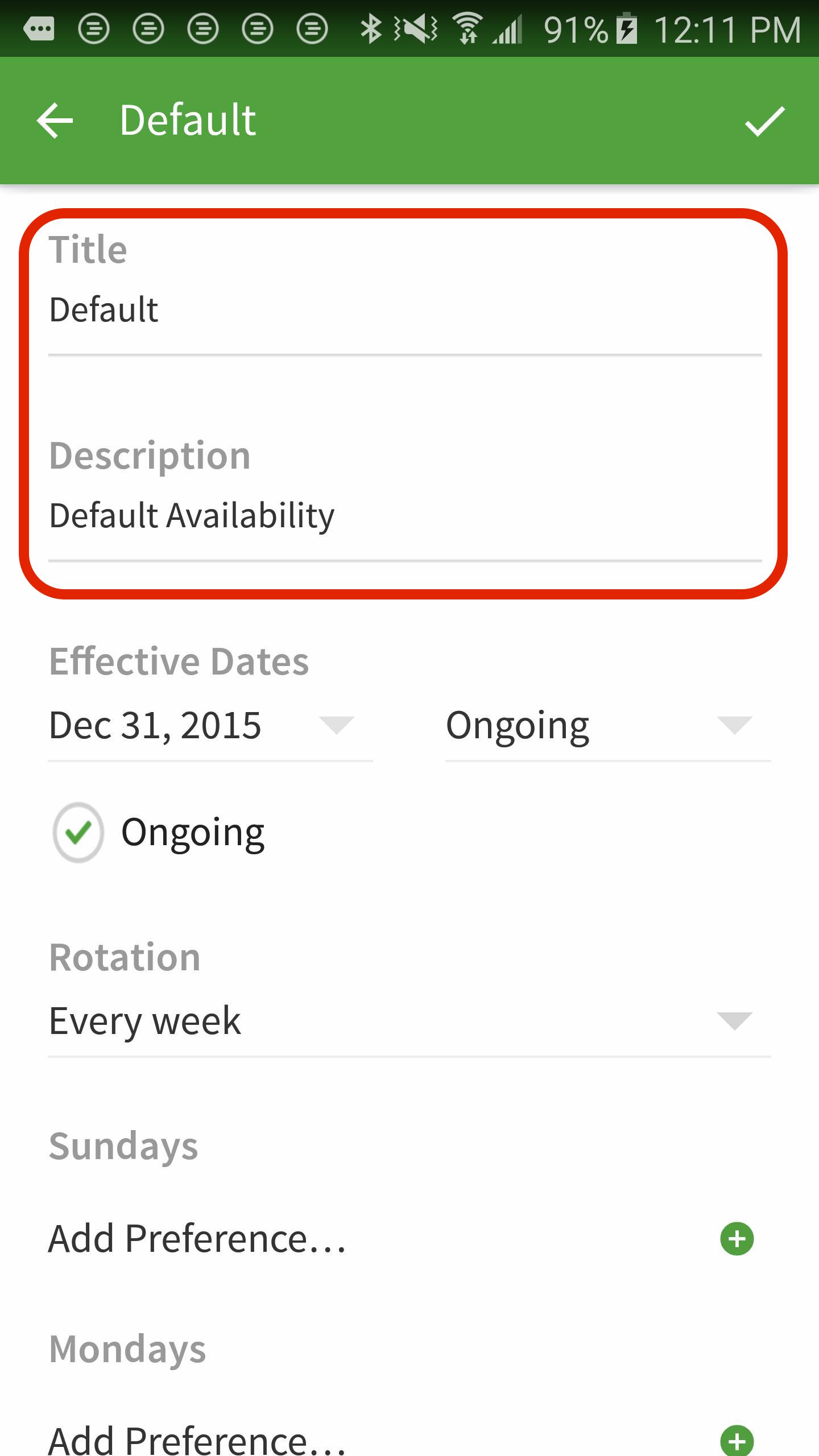 4) Define how long you want this preference to run. Edit the "Effective" start and end date. If there is no end date, click "Ongoing."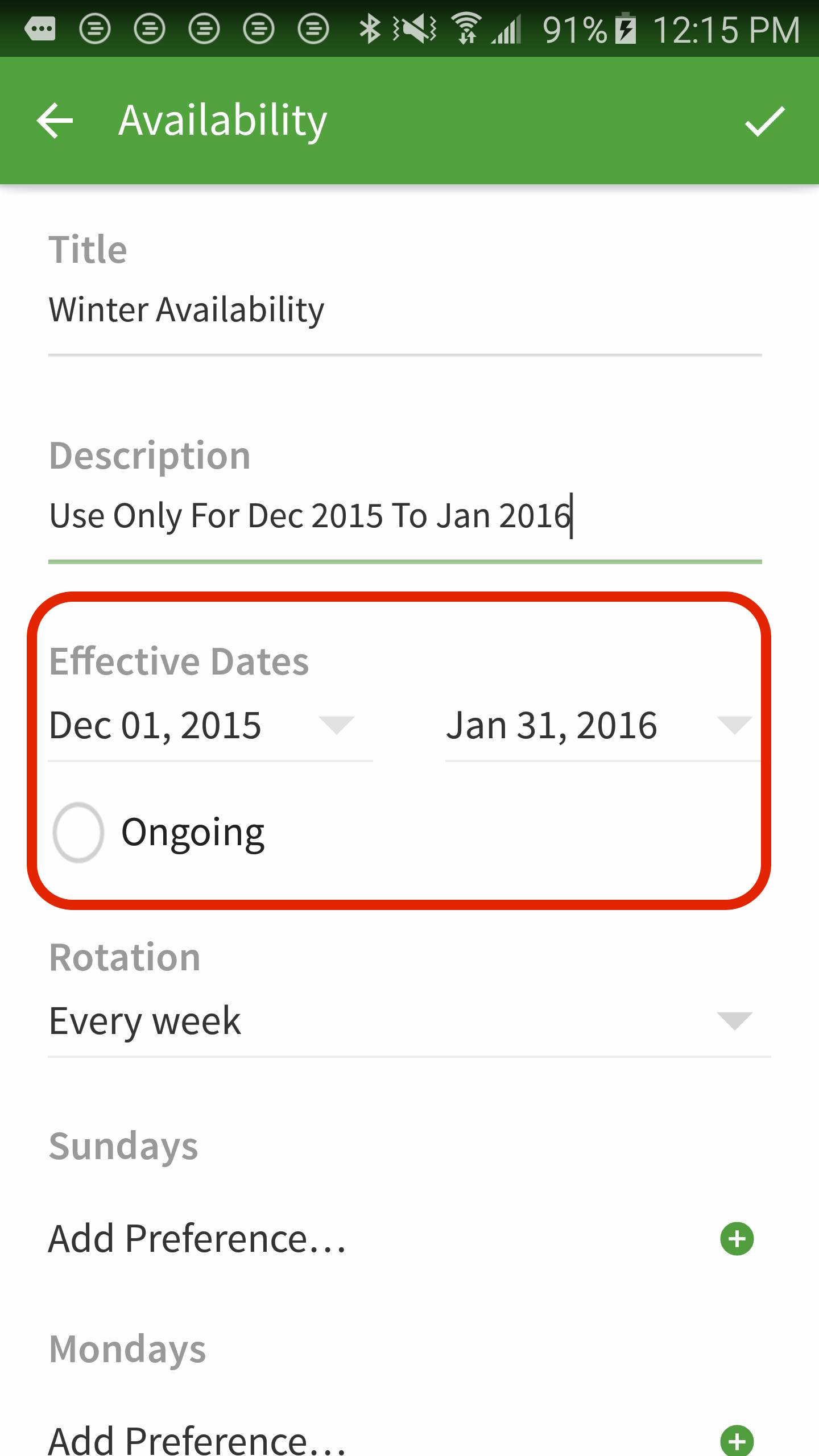 5) Set the rotation frequency from the drop down menu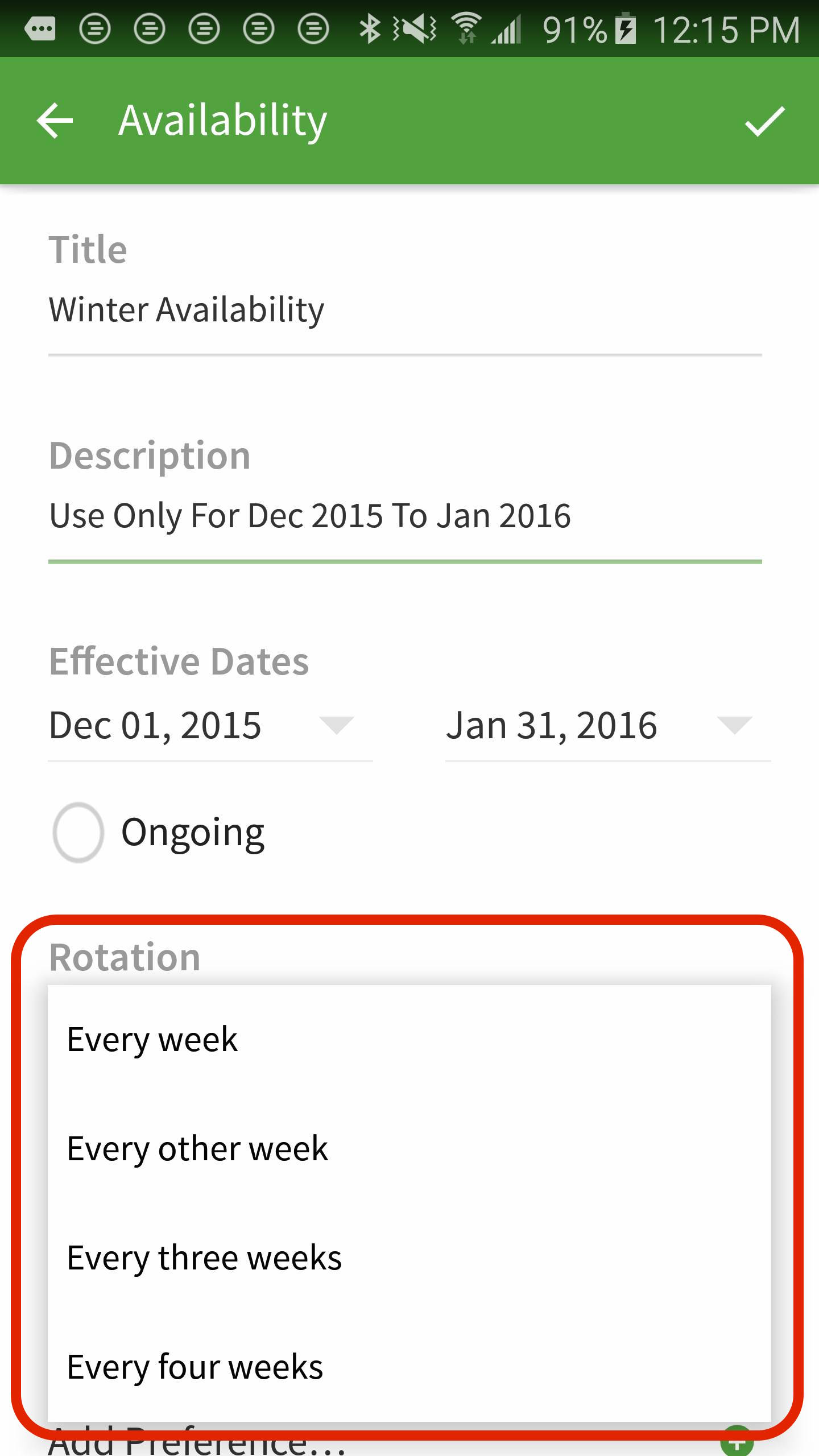 6) To enter the availability preference for a specific day of the week, click the + icon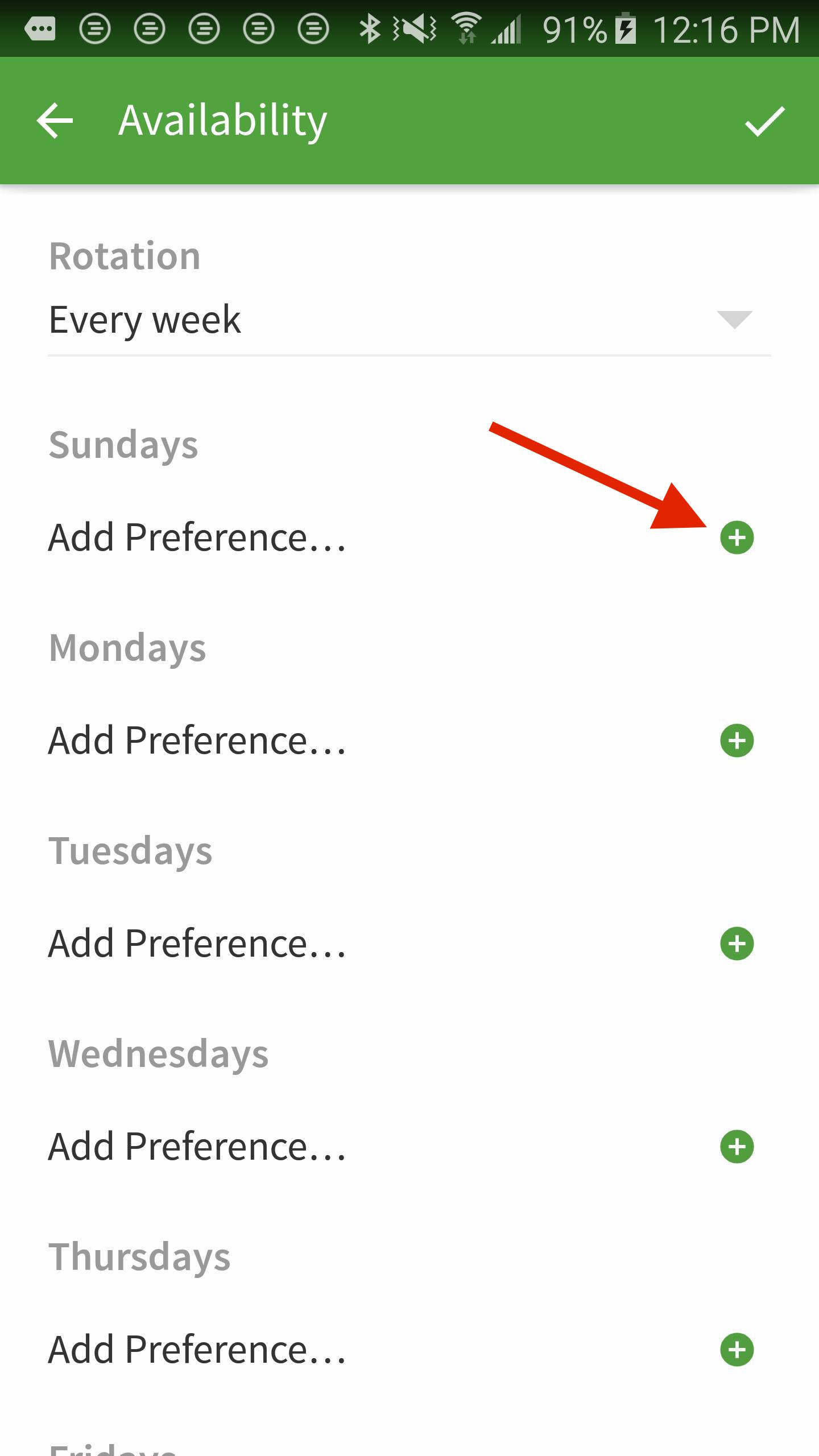 7) This will open an editable form to set Preferred and Unavailable times for each day of the week.
Select "All Day" as a shortcut to indicate your Preferred/ Unavailability on a specific day of the week.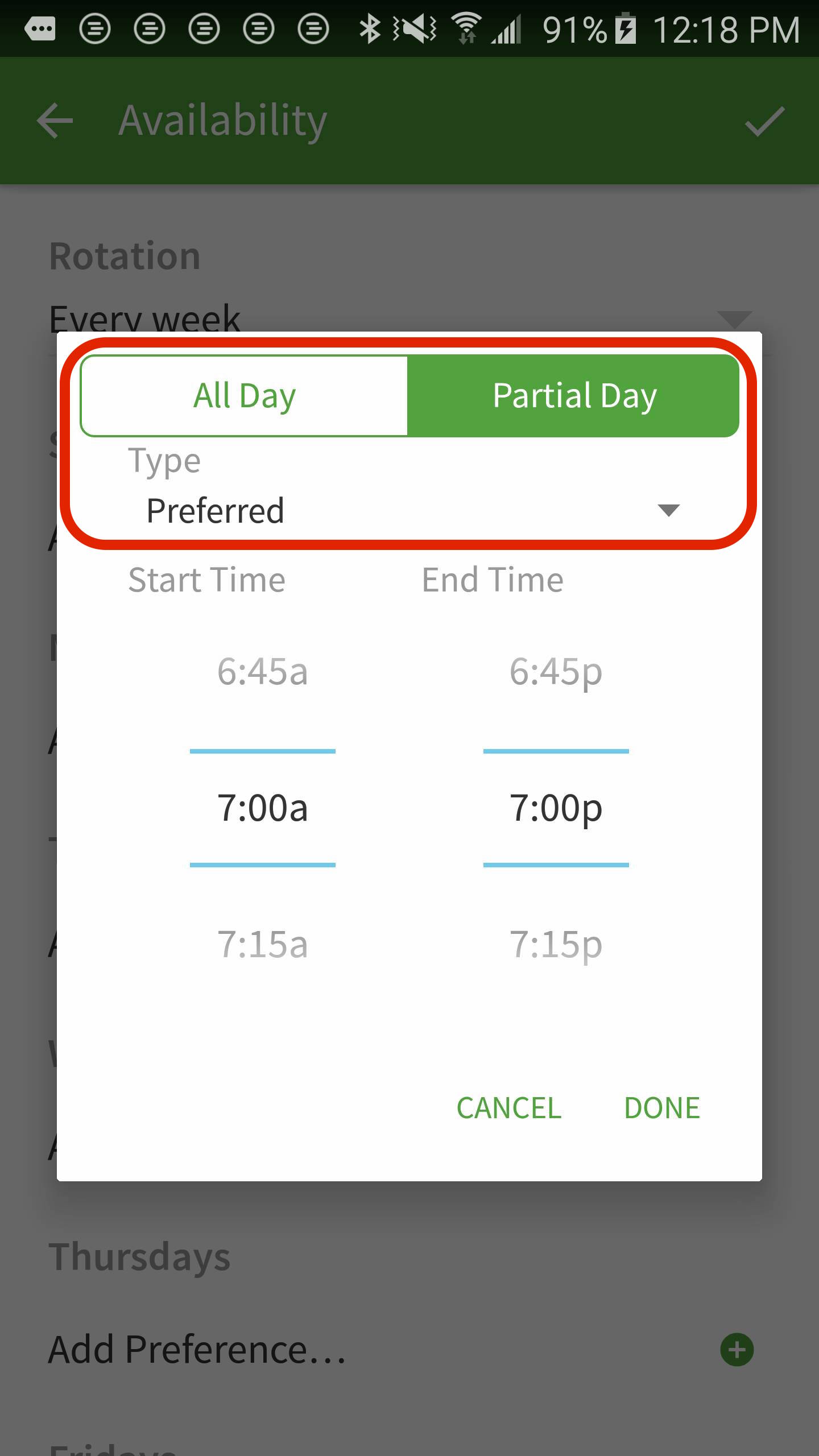 8) The drop down menu allows you to select from Preferred/Unavailable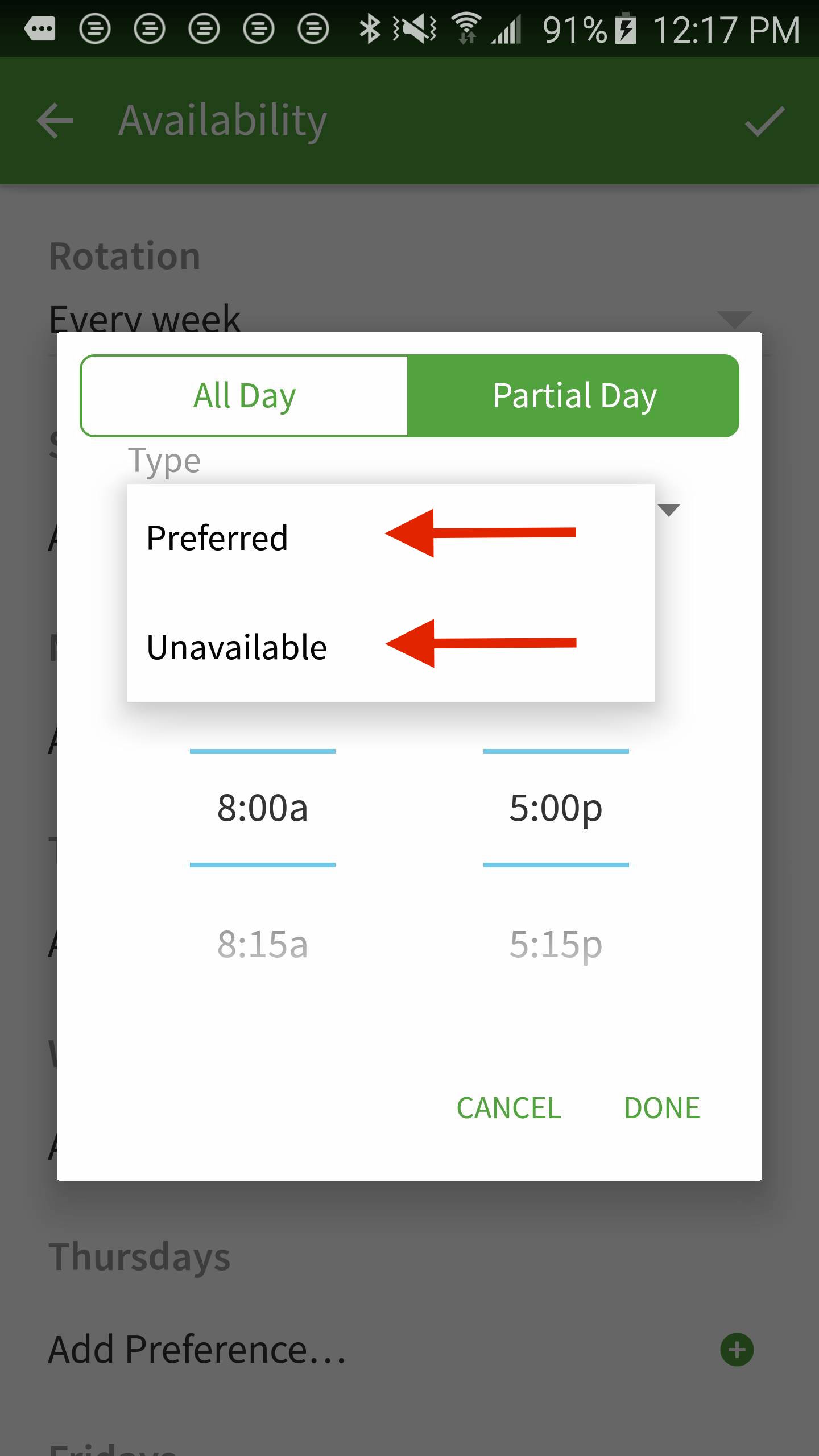 9) Scroll to define the Start and End time for your Preferred/Unavailable times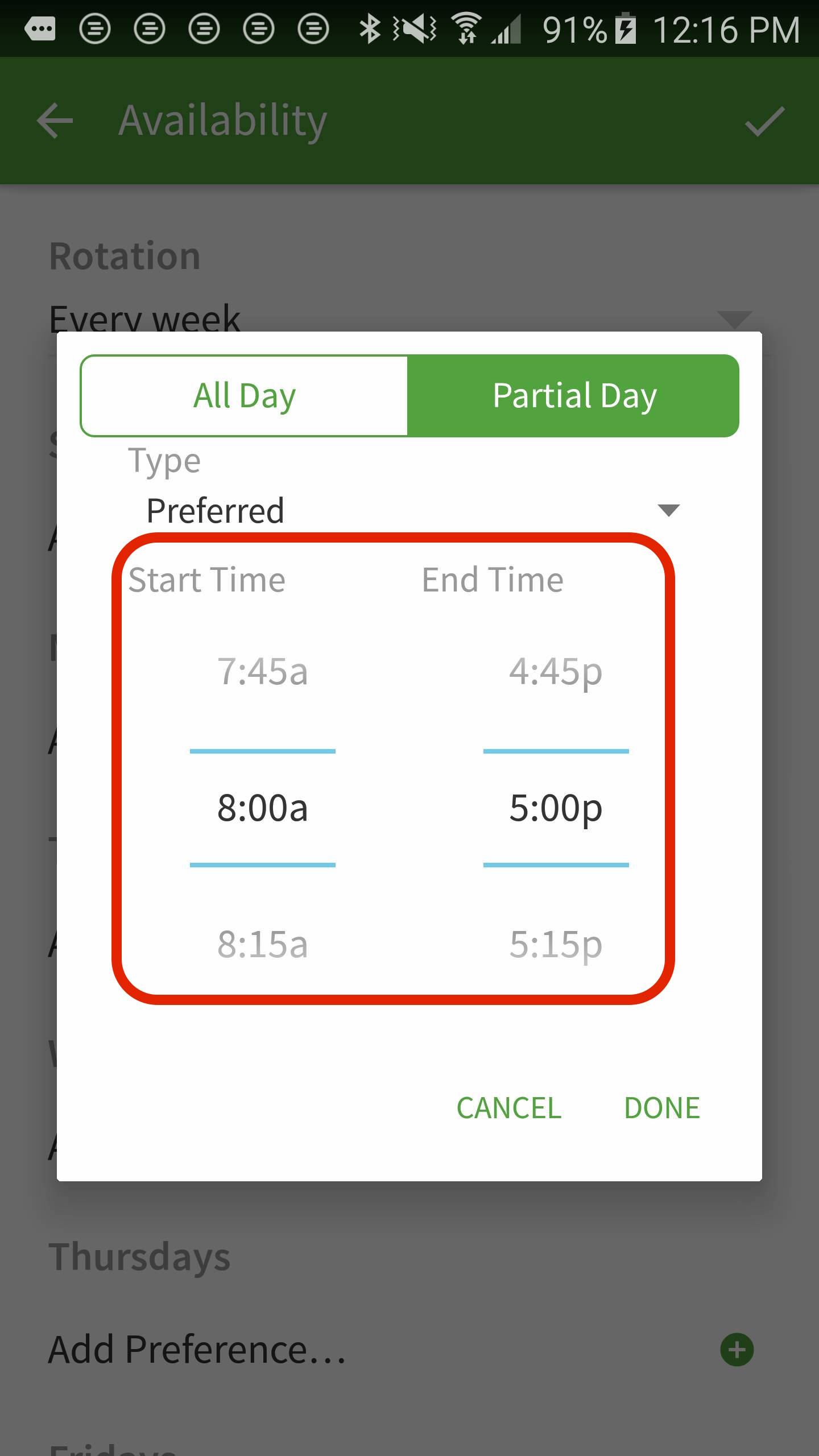 10) When you have completed the day's preference, click Done.
NOTE: Clicking Done does not save your availability preference to your account. Clicking Done means you have completed editing the specific day of the week and allows you to enter more preferences for the remainder of the week.
11) Notice the Green thumbs icon to indicate the Preferred availability.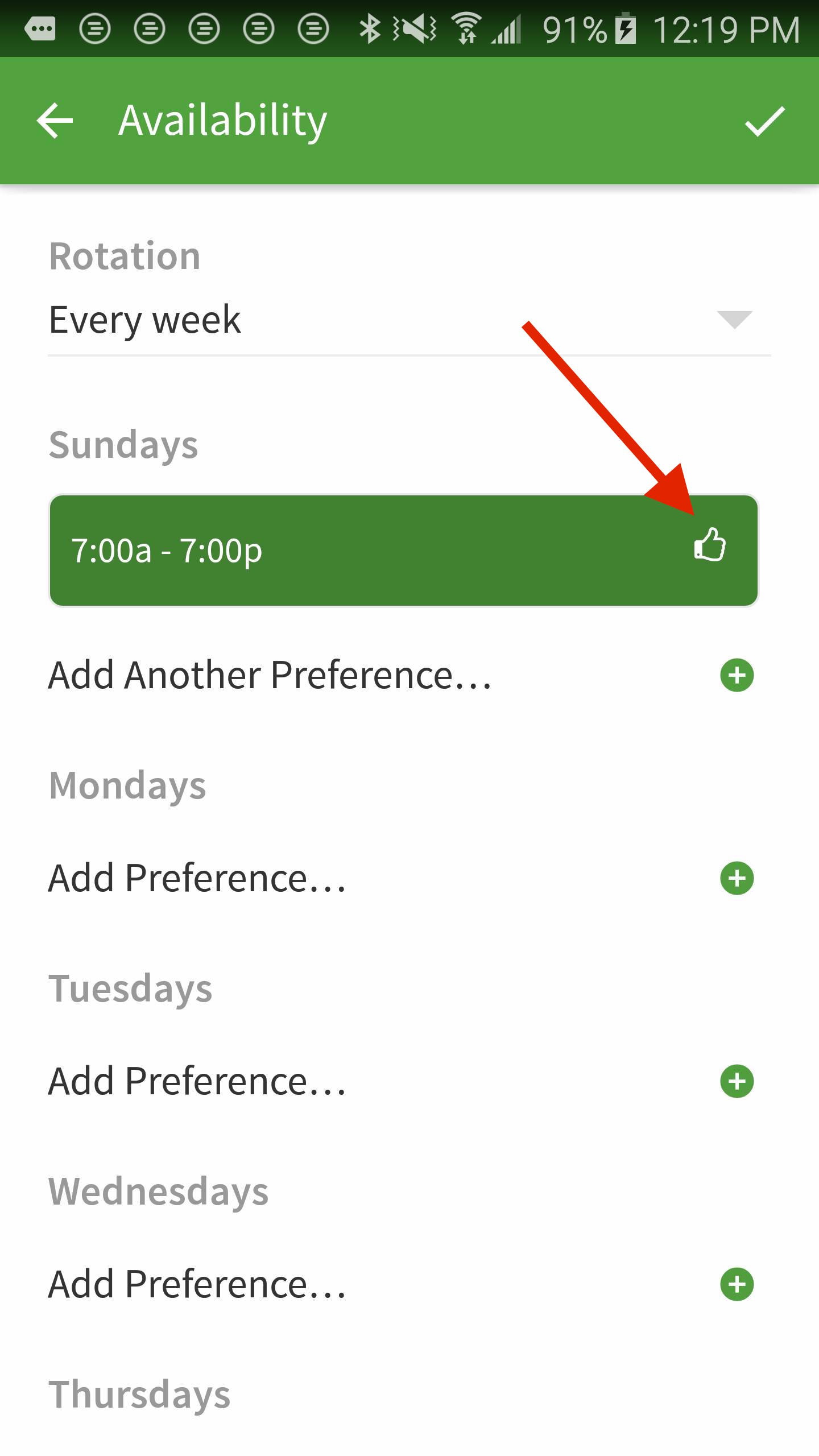 12) If there is an Unavailable preference indicated, we define it using the red thumbs down icon.
We also allow defining both Preferred and Unavailability for the same day.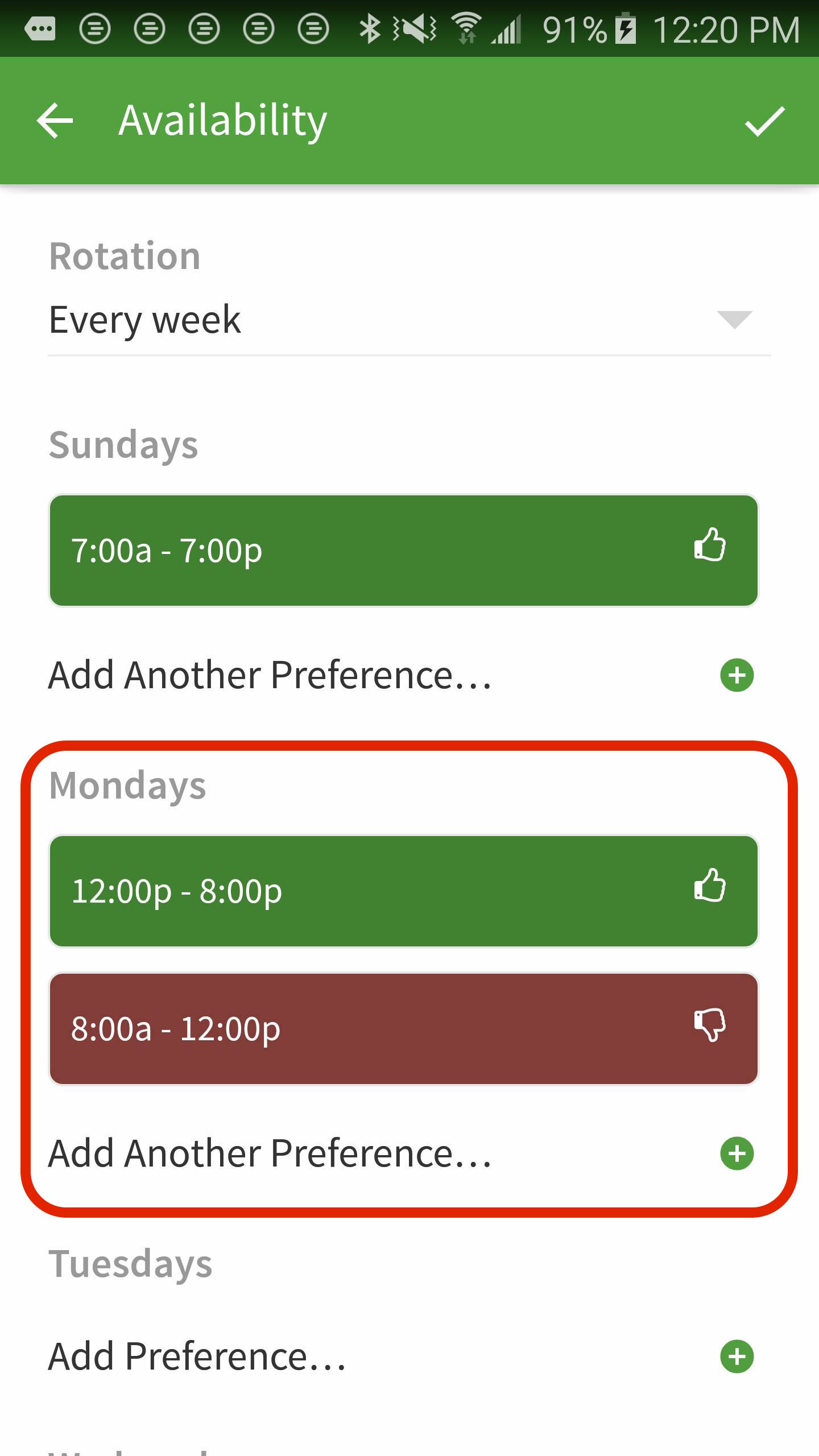 13) When you have completed entering the Availability Preference for all days of the week, click the Check icon on the top right of the screen to save your preferences to your account.
When I Work allows the ability to enter multiple availability preferences if your personal preferences changes from week to week.