Overview
If you have already added your employees to the schedule with their email addresses and/or phone numbers, they should have already been invited to join the schedule.
If they have not yet joined the schedule, you will want to re-invite your employees that have not yet registered.
Things to know before you begin
If you haven't added your employees yet, check out this article instead.
Re-inviting employees
To re-invite, make sure you're on the Employees page. This can be accessed from the Gear icon at the top.

To the right of your employee's names, there will be a green dot if they have already registered. If there is not a green dot, then they still need to be registered.

You can invite a single employee that still needs to register by going to the right side and clicking the envelope icon. This will resend an invitation to their email so they can register.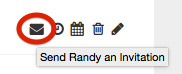 Or you can re-invite all employees at once by going to the top right corner of the Employees page and clicking on the More Options icon (the icon with three dots).
Then select Invite Unregistered Employees. This will send an email invitation all employees with an email address that are not yet registered.