Overview
The overtime visibility feature displays the overtime impact when scheduling. Your account's overtime thresholds are used to calculate an employee's potential overtime when assigning a shift.
Things to know before you begin
Overtime visibility is currently available on the web app. Support for the Android and iOS apps coming soon.
Accounts using Time Clock & Attendance takes actual worked hours into account when displaying overtime in the scheduler for increased accuracy.

For past days, timesheet hours are used as the basis for overtime calculations.
For today & future days, scheduled hours are used as the basis for overtime calculations.

Overtime calculations in the scheduler are based on a midnight cutoff time regardless of the payroll cutoff time.
Before you begin
To calculate overtime in the scheduler, begin by configuring your settings:
Go to App Settings.
Set the Start of the Work Week. See Changing the Start Day of the Work Week for more information.
Configure your overtime thresholds. See Setting Overtime Thresholds.
Creating shifts
The overtime impact of shifts is displayed whether you are creating a shift from a shift template or creating a custom shift.
Using a shift template
If a shift template adds max hours or overtime, a badge displays the potential max and overtime hours.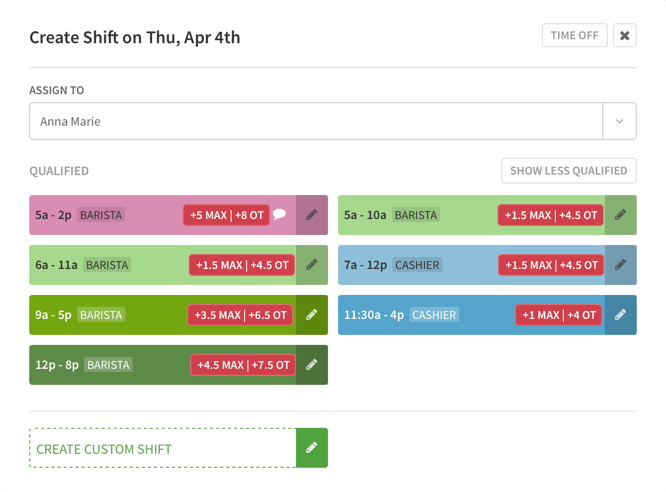 Hover over the badge to view a breakdown of new and total hours for the week.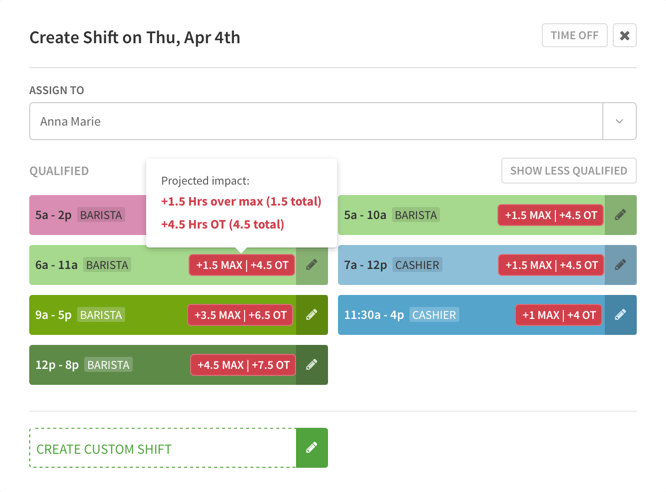 Using a custom shift
When creating a custom shift, the Assign To menu displays a badge for any employee that will acquire max hours or overtime if assigned the shift.
Frequently asked questions
What is the difference between max hours and overtime?
Overtime is subject to national, state, and local laws and must be applied to all employees. Max hours is a great way for employers to set weekly hour limits for specific employees that differ from the overtime policy.
Do overtime badges update when editing an existing shift?
Yes. When editing an existing shift, adding hours updates the badge for the assigned user without double counting the shift's previous length.
Do my employee's custom timezones impact the overtime information?
Overtime impact is always calculated in the account's timezone set in the App Settings.