Overview
Create and distribute job postings for your workplace using Hire by When I Work.
Create and share a job posting
From the Job Postings page, you can create and share new postings.
To access the Job Postings page, click 

Hire

 Hire on your toolbar.
Click Create Posting in the upper-right corner of the screen.
Enter the posting description then click Continue. 

Job title (required)
Job Type (required)
Job Description (Optional)

Select the schedule where the job will take place, then click Continue.
Click Add question… to create custom questions for applicants. By default, each applicant will be asked to provide their:

First and last name
Email and mobile phone number
Days of the week they can work
Work history

Click Post Job.
Click Copy Link to share your public job posting page online. You can also click Share on Facebook or Tweet It to share the posting on social media.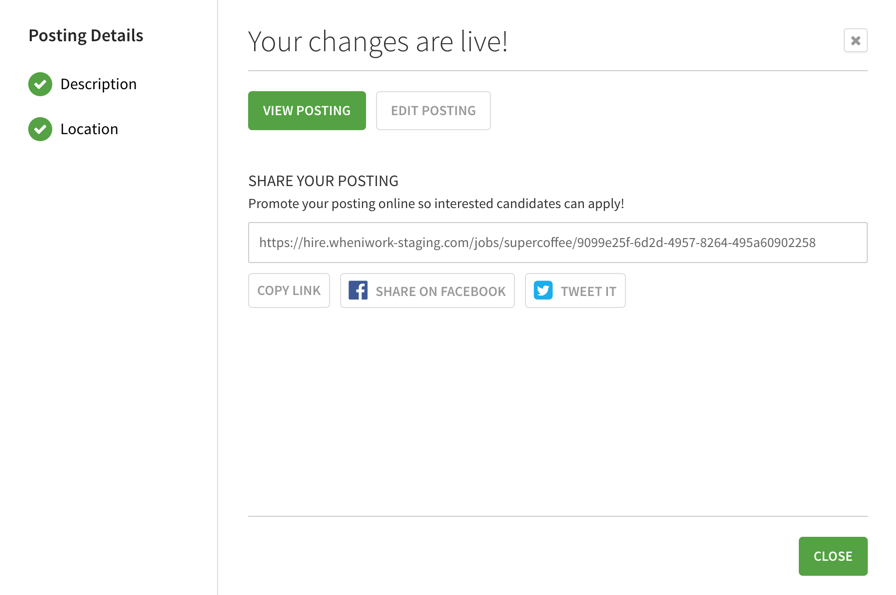 Distribute job postings
After you create your first job posting in Hire, you are prompted to publish your postings on Facebook Jobs or Indeed. Choose the distribution method you would like and enter the relevant information for each. When you're finished, click Save.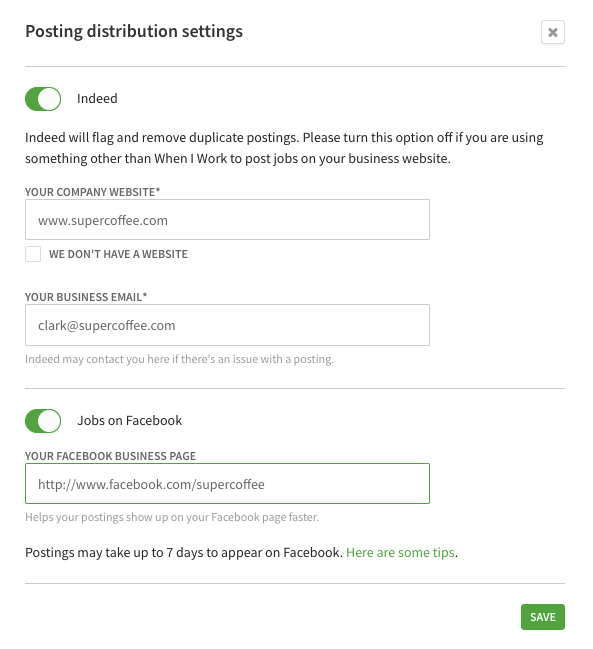 You can manage posting distribution settings at any time.
Indeed Jobs Considerations
Indeed analyzes and approves job postings over a 4-5 hour time period. Due to this, your job posting distribution to Indeed may be delayed. In addition, when you remove a job posting from Hire there may be a delay before it is removed from Indeed.
Facebook Jobs Considerations
Facebook analyzes and approves standard job postings over a 2-4 hour time period. You can verify your job has been posted by searching for your job in the Jobs on Facebook  marketplace. Your job postings get sent to Facebook where it appears in the following locations: your Facebook Business page, the Jobs bookmark, Facebook Jobs marketplace, and your News Feed.
In order to view your job postings on your Facebook Business page, you will need to connect your Facebook Business page to Hire by When I Work.
The administrator of the Facebook Business account is sent a Facebook notification to connect 24-48 hours after enabling the integration.
The administrator also receives an email to connect in the same time period.
To connect, have the administrator of your Facebook Business page check their Facebook notifications and check their email for an invitation from Facebook to connect.