Overview
Shift acknowledgement lets the account holder, managers, and supervisors know that you have seen your assigned shifts.
You can also acknowledge shifts from your computer or iPhone/iPad.
Things to know before you begin
Your employer may turn on require shift acknowledgement across the entire account.

If require shift acknowledgement is enabled, you are automatically prompted to acknowledge your shifts when you sign in.
If require shift acknowledgement is disabled, you can choose to acknowledge your shifts one at a time.

The app allows you to acknowledge shifts for up to 2 weeks at a time. If you need to acknowledge more than 2 weeks in advance, use your computer to acknowledge shifts instead.
All users are prompted to acknowledge shifts regardless of their user privileges in the app. This ensures clear communication about published shifts to all staff.
Things to do before you begin
Make sure the 
When I Work Scheduling app
 is installed on your Android phone.
Acknowledge your shifts when prompted
If your employer requires you to acknowledge your shifts, the app automatically displays a prompt when you sign in. Tap Acknowledge All at the bottom of the screen to let your employer know you've seen your shifts.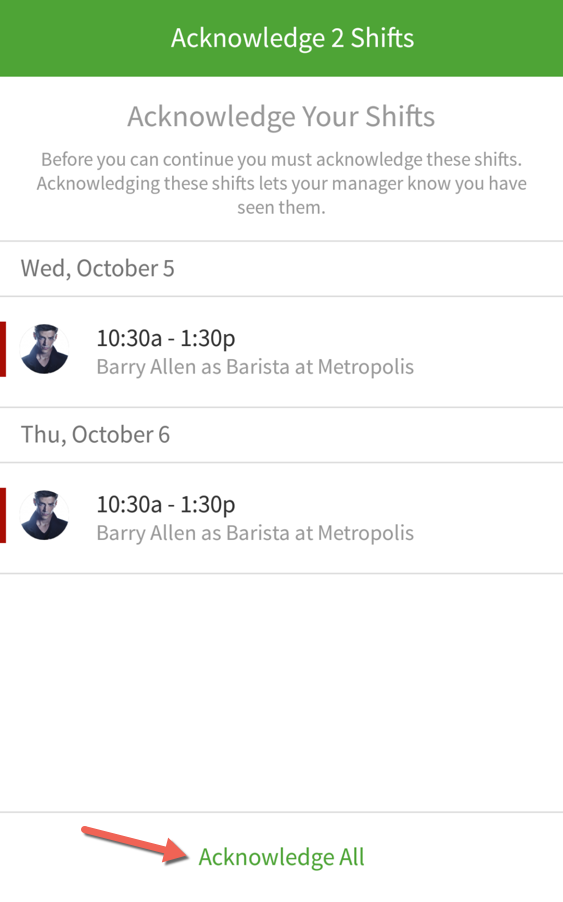 The app will only ask you to acknowledge shifts that are scheduled in the future at a max of two weeks in advance.
Manually acknowledge shifts
If your employer doesn't require you to acknowledge shifts, you can choose to acknowledge your shifts manually.
Tap

Menu button

, then tap Schedule.
The schedule opens to My Shifts view:

Review the shifts assigned to you.
When you are ready to acknowledge your Shifts, tap the checkmark icon at the top right of the screen.

Your acknowledged shifts should now display a green check mark: